Aron Baynes focuses on the NBA's return, Illawarra Hawks embrace a busy schedule and the foul NBL drama continues; Melbourne United; Matthew Dellavedova
NBA teams would love to have a Baynes-quality rim defender and rebounder next season; hopefully he can regain the match fitness and strength to make it a reality.
Goorjian says Hawks will adopt a busy schedule
The NBL is going through as many games as possible over the next month to catch up on postponed games and this is causing busy schedules for teams.
Brian Goorjian's Illawarra Hawks are in the midst of a four-game stint in eight days and will face more games in quick succession in the coming weeks.
Goorjian told Hoops Heaven that he found it difficult to sustain his squad during their long period without matches due to the COVID-19 outbreaks, but preparing them for matches was not.
"I found the hardest part was training and then the game was called off," Goorjian said.
"You look at your team and there's another 14 days of training until the next game and they're like 'will this next game be cancelled?'
"To turn around now and complain that we have fast and furious games, for me it doesn't make sense to complain. We are delighted to have the opportunity to play.
"When I spoke to other coaches they sat there and didn't get a chance to play. Some teams have foreign players sitting here, some of them abroad for the first time , and they've been here for 10 or 12 weeks and they've played maybe two or three games.
"We have four games in eight days and we have been beaten in two. We take our licks, but we don't complain. Our guys are happy. They are the happiest they have ever been.
"We play, we have a day in between, we do preparation, we shoot and then we play. They like it much more than "game cancelled, maybe we have one in three weeks, oh no it's canceled too".
"It's the one I found the most difficult for my team to manage."
Unsportsmanlike fouls are a concern
Some parts of the NBL are increasingly concerned about the types of plays umpires call unsportsmanlike fouls and the repercussions later in games when a potentially minor unsportsmanlike foul leads to the subsequent ejection of a key player. .
The rules of basketball draw a pretty hard line on whether to call unsportsmanlike fouls for plays that deliberately stop fast breaks or for acts such as holding or pulling on a player's uniform. But the counter-argument is that the referees were too quick to call unsportsmanlike fouls when a no-call, verbal warning or normal foul could also have done the job.
It is important to note that players should keep their behavior under control when receiving any of these fouls as a second or technical foul in the same game is an immediate ejection. As we saw with the ejection of Nathan Sobey in Tasmania at the start of this season or the ejection of Xavier Cooks recently, these two calls have transformed their respective games.
Loading
Perhaps we saw a small change on Wednesday when Matthew Dellavedova was initially penalized with an unsportsmanlike foul for lightly bumping into Lamar Patterson, while the pair exchanged nonsensical remarks before the appeal was considered and replaced by an offensive foul.
United manager Dean Vickerman was quizzed by Hoops Heaven after the game if the way unsportsmanlike fouls were called had become too light.
"Throughout the game I think there are times when people are going to grab shirts or shorts or different things and maybe we have to make a very clear line. Is it going to be a unsportsmanlike foul every time or what will happen?" said Vickerman.
"Sometimes there are accidental contacts. This one is tricky.
Bullets coach James Duncan declined to comment when asked the same question as he felt he was the "wrong person" to ask about it.
Vickerman also said he felt Dellavedova's foul should not have been called at all.
"I didn't really see the 'Delly' game until it appeared on [big screen]", Vickerman said.
"He gave Lamar a little bump when he spoke, it was something [that came] of Lamar giving a little push as he drove to the basket.
"I'm certainly glad they demoted him, I would have liked to see him demoted to nothing because we were on a pretty good fast four-on-three break the other way and for them to get the ball back and scoring that position was a bit of a game changer.
Ernst back with the Boomers
Carley Ernst, née Mijovic, is the latest WNBL player to return to the league after having a baby.
The Melbourne-bred centre-forward has always been dangerous as a post player with reliable outside shooting, but it was unclear if or when she would return to the league after she and husband Josh welcomed the baby Kalan into the world on September 8. Last year.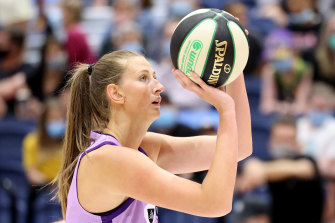 But the Melbourne Boomers have signed the 27-year-old as cover when they lose stars Cayla George and Ezi Magbegor next month for the Opals' FIBA ​​World Cup qualifier in Serbia.
Ernst has already played two games for the Boomers, including scoring four points in eight minutes against Perth on January 17.
"I am truly delighted to join the Melbourne Boomers for the remainder of the WNBL season," Ernst said in a Boomers statement.
"When the opportunity presented itself and the club offered me their support as a first-time mum with baby Kylan, I jumped at the chance to play with such a talented team and staff. of experienced coaches.