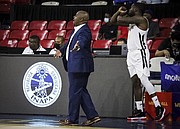 BBF Secures Funding for Men's National Basketball Team Trip to FIBA ​​Americas World Cup Qualifiers
By BRENT STUBBS
Senior Sports Journalist
bstubbs@tribunemedia.net
WITH just about all the funding secured, the Bahamas Basketball Federation is now gearing up to assemble the men's national team that will represent the country in the final two games of the FIBA ​​Americas World Cup Qualifiers second leg.
Federation President Eugene Horton confirmed that with the help of the Bahamian government and some anonymous donors, they accounted for the majority of the estimated $50,000 to make the trip to Santo Domingo, Dominican Republic, February 26 and 27.
Still winless since the first two games played against Canada in November in Americas Group C, the Bahamas will need to win at least one of the two games they play against hosts Dominican Republic and US Virgin Islands in the U.S. approaching the final stage of qualifying in July.
"We have received funding, assistance from the government and some private individuals and so we are preparing to leave," Horton said.
"We're just building the team to travel in a few weeks. We should have enough funds to go there.
At one point, the federation considered withdrawing from the competition, or in the worst case scenario, they would have asked FIBA ​​to delay the tournament because they did not have the funds to travel.
"It was a challenge, but we managed to get some funding, thanks to the Ministry of Youth, Sports and Culture and some private donors," Horton said after appealing for help once that it was learned that the team would not be able to make the trip. "Hopefully by June we'll be better prepared. It felt like the window was covered. So we're putting some things in place so we don't have to go through that again."
The squad, which is expected to be finalized by next week, will once again be coached by Moses Johnson. He noted that depending on how much funding they get in total, it will determine who else can travel on the coaching staff.
"It's a breath of fresh air because I think we've got a great team to go into these upcoming games," said Johnson, who coached the last two games in November against Canada. "We can now move forward and plan to compete in this next window.
"We will have a revamped squad with some of the guys coming back like Devario Miller, Danrad Knowles, Travis Munnings, Kentwan Smith, David Nesbitt and Rashad Davis. We'll have around eight or nine of the top 24 players with an influx of new talent that we'll reveal when the squad is announced.
Johnson noted that two key players, guard Domnick Bridgewater will not be released from his squad in Europe for this window, and along with striker Dwight Coleby who has just signed a new contract, will not be available to play as well.
With the team they are assembling, Johnson expressed his belief that the Bahamas should be able to win against the Dominican Republic and the US Virgin Islands,
On Friday, Johnson said the federation would publish the list of 24 players in the pool before naming the final list of 12 players next week at a press conference.
"We are all ready to go. We are just waiting for the amount of funding taken so that we can choose the travel delegation based on the funding provided," Johnson said.
"But we prepare a team to win. The Dominican Republic will pose a challenge as they play at home, but we are confident we can beat the US Virgin Islands. We've beaten them in the past and they've beaten us, so we're expecting a pretty good game with us in the lead.
The Bahamas will have to part ways to withstand the pressure of having to win two games when they play in July. The good thing is that the US Virgin Islands are also winless and will face Canada in their other game played, while the Dominican Republic are 2-0 and will face Canada (2-0) in their other game in this window.
If they make it through that window, Johnson said it would bode well for the summer as they expect to have National Basketball Association Phoenix Suns center Deandre Ayton and the new Indiana Pacers guard. , Chavano "Buddy" Hield (formerly of the Kings). , who have already made a commitment.
They are expected to be joined by NBA D League player Kai Jones, as well as middle schoolers Lourawls 'Tum Tum' Nairn Jr, Samuel Hunter and Garvin Clarke, to name a few.