Best Arkansas Basketball Players: Arkansas' All-Time Starting 5
Eric Musselman is building something special in Arkansas. In his three seasons at the head of the bench, Musselman recorded at least 20 victories. He has two top-10 wins to his name this year alone, proving the Razorbacks can compete with anyone in the country.
Musselman has the ball rolling now, but the Arkansas Razorbacks also have an illustrious hoops history. During the second half of the 20th century, mainly under the head coach Nolan Richardson, the Hogs were among college basketball's elite teams. Need proof? Take a look at the rafters at Bud Walton Arena. You'll see one national championship, one national title runner-up, six Final Four appearances, seven SEC tournament titles, and 24 regular-season conference titles.
This kind of resume just doesn't happen without great players. Believe me, Arkansas has had plenty. But, if we could go back and search through the Razorbacks' impressive collection of hoops, who would form the best starting lineup?
Let's find out.
Arkansas Basketball's All-Time Starting 5
Guard: Sidney Moncrief (1975-79)
No fuss. Sidney Moncrief is the tallest player to step on the Arkansas hardwood. "The Squid" is the second top scorer in program history and the best rebounder of all time, which is impressive considering he was a 6-foot-3 guard. Additionally, he was the center of the 1978 Final Four team.
Moncrief and Corliss Williamson (we'll get to that later) are the only two Arkansas players to retire their jerseys. The shooter then had a fantastic NBA career after his days in Fayetteville, too. He was inducted into the Basketball Hall of Fame in 2019.
Guard: Todd Day (1988-92)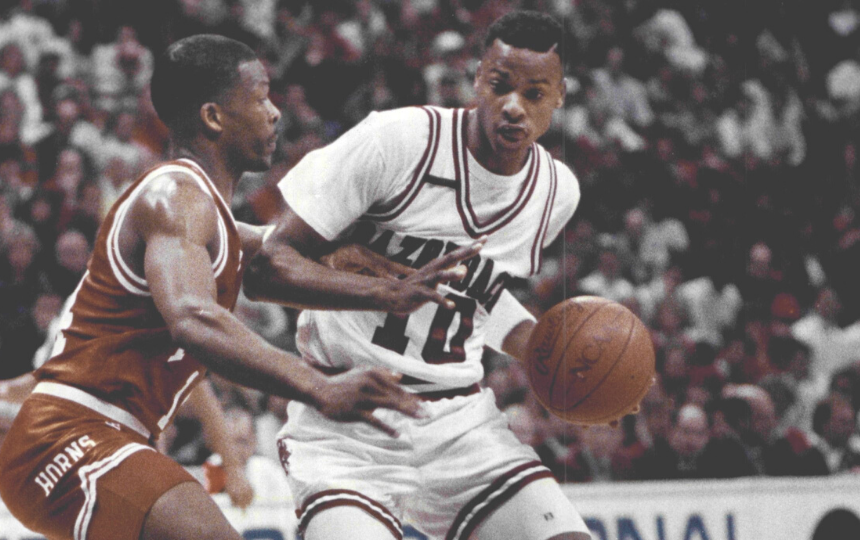 Day and Moncrief would form a formidable backyard on talent alone, but I suspect they would have great chemistry as they had similar careers. They both led their team to the Final Four (Day led the 1990 team). They were both the program top scorer at one point (Day surpassed Moncrief's 2,066 career points with 2,395 of his own – a mark that stands to this day) and they won SWC Player of the Year (Day in 1991, Moncrief in 1979).
The two-time American shooting guard averaged 18.9 points, 5.3 rebounds, 2.5 assists and 2.1 steals on his four-year career. Besides his stats, Day was a winner, and for those reasons, he's an obvious pick.
Striker: Corliss Williamson (1992-95)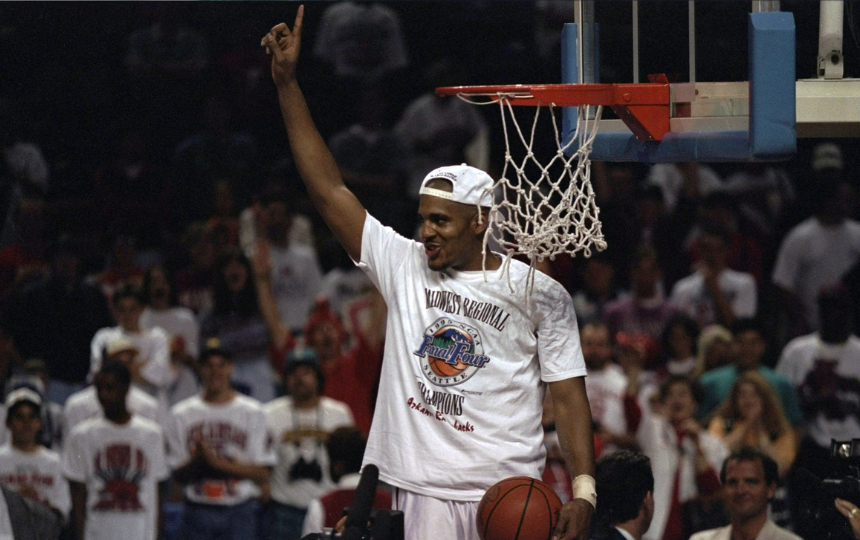 RELATED: Eric Musselman's Wife is a Former ESPN Presenter
Corliss Williamson carried the 1994 team on his back to a national championship. He was nothing short of amazing in March of that year, averaging 21.6 points and 8.2 rebounds in wins over North Carolina AT&T, Georgetown, Tulsa, Michigan, Arizona and Duke.
Winning a national championship is of course the ultimate prize in college basketball, but Williamson has also received his fair share of individual accolades. He was named NCAA Tournament Most Outstanding Player in 1994; he is a two-time SEC Player of the Year and a two-time All-American.
The striker also had a solid NBA career and was an active member of the Detroit Pistons team that won the title in 2004. As I mentioned before, Williams' No. 34 jersey is the only uniform that was retired besides Moncreif's.
Forward: Bobby Portis (2013-2015)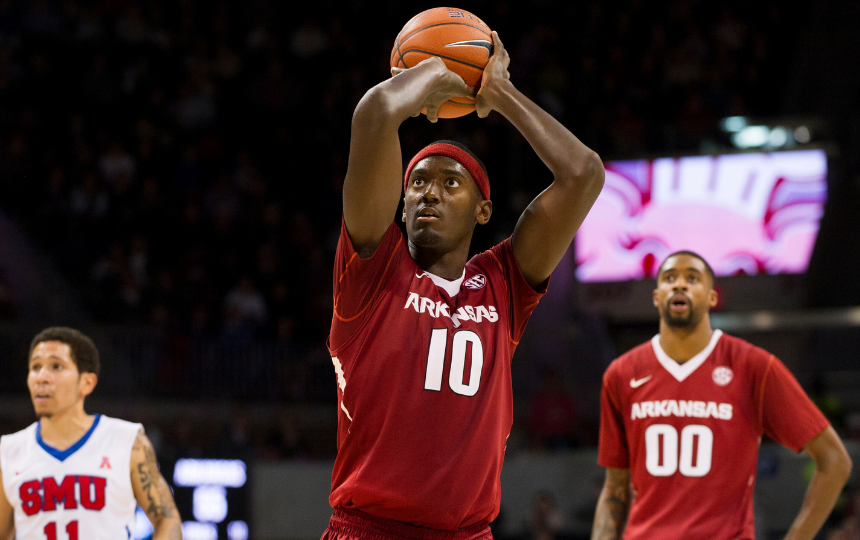 How not to include Bobby Portis? The 6-foot-10 forward became a fan favorite during the Milwaukee Bucks' 2021 NBA championship run. Before his professional success, Portis was a star for his national team.
The Little Rock native averaged 15 points and 7.9 rebounds per game during his time in Fayetteville and won the 2015 SEC Player of the Year award. That same year, he led the Hogs to their first NCAA Tournament in seven seasons.
Call him BP, Bobby Buckets or the mayor of Milwaukee, Portis shone at the college level and continues to do so in the NBA.
Center: Oliver Miller (1988-92)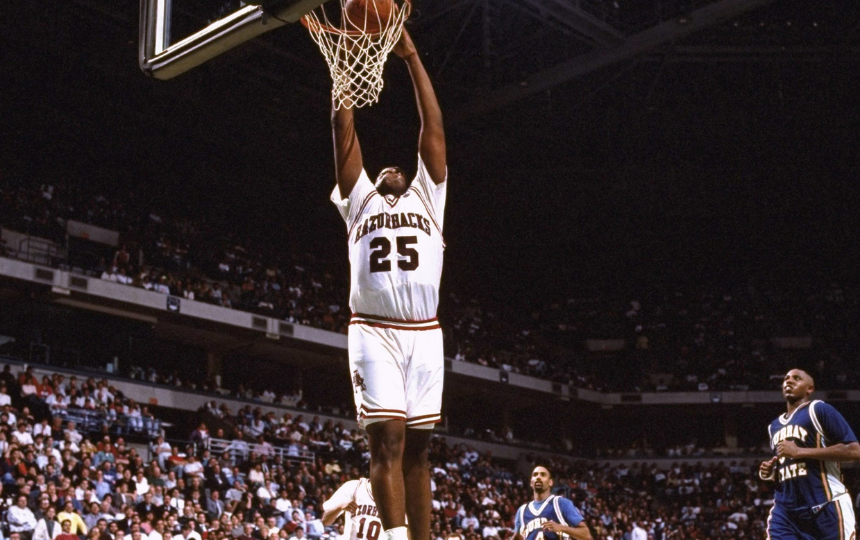 Miller and Day were the anchors for one of the most successful stretches in Razorback history. We know about the 1990 Final Four, but the duo also led Arkansas to four straight regular-season conference titles and three conference tournament titles. Additionally, Day and Miller shared the SWC Player of the Year award in 1991, which is virtually unheard of for their teammates.
It's odd to call a 6-foot-9, 280-pound man undersized, but Miller was a bit shorter than the average center. Nonetheless, he played a physical game and had great skills around the rim.
off the bench
Lee Mayberry (1988-92)
Joe Kleine (1981-85)
Alvin Robertson (1981-84)
Joe Johnson (1999-2001)
Moses Moody (2020-21)
Related Videos