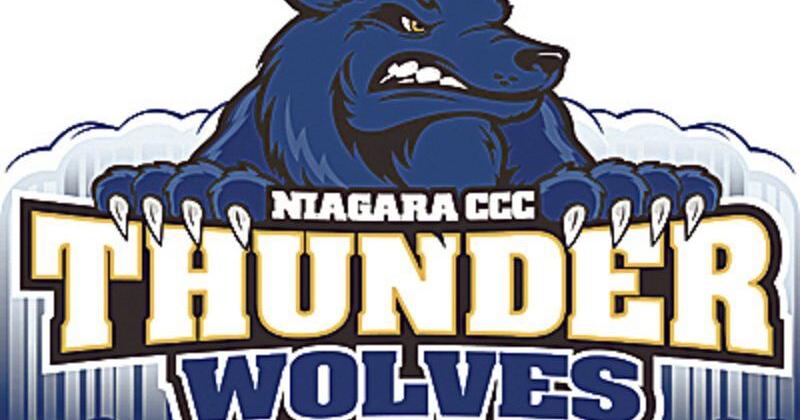 College Roundup: NCCC Basketball Teams Drop in Tournament Openers | Sports
NJCAA Division II National Championship pursuits came to an abrupt end Tuesday night for Niagara County Community College basketball teams.
The women lost 75-50 to North Central Missouri in Port Huron, Michigan before the men were dropped by Henry Ford, 86-79, in Danville, Illinois.
Gabby McDuffie scored 23 points for the ninth-seeded Women (28-4), who shot 27.8 percent from the floor and hit just two 3-pointers. Alaina Forbes added eight points, passing Newfane's Paige Emborsky for second place in program history and moving 11 points off Michelle Milleville's program record of 1,029 set in 1998.
Forbes will have a chance to break the record at 11 a.m. Thursday, when the NCCC moves into the consolation group to face 16th seed Dakota Bottineau (21-13), who lost 77-47 to top seed Kirkwood at the first round. The T-wolves can play up to three more games, and three wins would mean a seventh-place finish.
Nora Ford scored a game-high 26 points for No. 8 NC Missouri (25-5), hitting single three-over-3s at N-Trip. Maci Moore (13 points, 13 rebounds) and Kennadie Crowe (10 points, 13 rebounds) both added double-doubles.
The 10th-seeded NCCC men (26-8), a No. 10 seed, beat No. 7 Ford (26-7) at the Thunderwolves Classic in December. They were on course for another victory Tuesday, up 7 before allowing a 15-0 run in three minutes in the second half.
Allen Fordham led N-Trip with 18 points and eight rebounds. Lamar Lovelace added 17 points, all in the first half. LaMarqus Merchand Jr. had 16 points, 7 boards and four assists while Jamond Jones had 11 points.
Mak Manciel scored a game-high 21 points for Henry Ford, who shot 52.5% from the floor and had six in double figures.
Like the women, the NCCC men will move on to the consolation group, taking on 15th-seeded Muskegon (19-9) at noon Thursday.
Daemen's season ends with a regional final
The race is over for Jenepher Banker and women's basketball Daemen.
The Grand Island native led her eighth-seeded Wildcats to the NCAA Division II East Regional Championship on Monday night, where they fell to seventh-seeded Pace University 67-65.
Katie Titus delivered a monster effort with 27 points and 15 rebounds and made the All-Regional team with teammate Tiara Filbert (11 points, six rebounds, five assists). Also on the team was Pace's Lauren Schetter, who tied Titus with 27 points Monday night.
Daemen ends his season with a 22-5 record while Pace (25-7) advances to the Elite Eight. It was the second time in three seasons the Wildcats had reached 20 wins.
Hammond is on the NABC All-Distract Team
On Tuesday, Niagara University senior Marcus Hammond was named District 1 First Team by the National Basketball Coaches Association.
Hammond was joined in the first team by fellow Metro Atlantic Athletic Conference stars Tyson Jolly and Nelly Junior Joseph, both of Iona. Jose Perez (Manhattan), George Papas (Monmouth), KC Ndefo (Saint Peter's) and Colby Rogers (Siena) made the second team.
Hammond led the Purple Eagles in points (18.1 ppg), which also finished second in MAAC. He was a three-time MAAC Player of the Week winner and finished the season third in the conference in 3-point field goals per game (2.3), sixth in free throw percentage (83.1%) , ninth in 3-point field goal percentage. (37.0%) and 10th in assists (2.9 per game).
Grimshaw transferred from Niagara
The first of what is almost certain to be a handful of NU basketball transfers came from the women's side as senior Kyra Grimshaw announced her decision on Twitter on Monday.
After playing sparingly in his first three seasons, Grimshaw has averaged 6.1 points in 30 games this season. She scored in double figures on six occasions, including a career-high 23 in an overtime win over rival Canisius on January 9.
HOCKEY
Niagara's Harpur, Herrmann turns pro
Two Niagara University defensemen have signed professional contracts since their final seasons ended on March 5.
Chris Harpur and Zac Herrmann have both signed contracts with clubs in the East Coast Hockey League. Harpur joined the Orlando Solar Bears while Herrmann was picked up by Buffalo Sabers affiliate, the Cincinnati Cyclones.
Harpur, Niagara's captain, had 17 points (3 G, 14 A) in 35 games. The 6-foot-3, 201-pounder finished his NU career with the most games played (146) in program history.
Herrmann, a 6-foot, 185-pound Lancaster native, has scored five goals and 15 points in all 36 games this season.