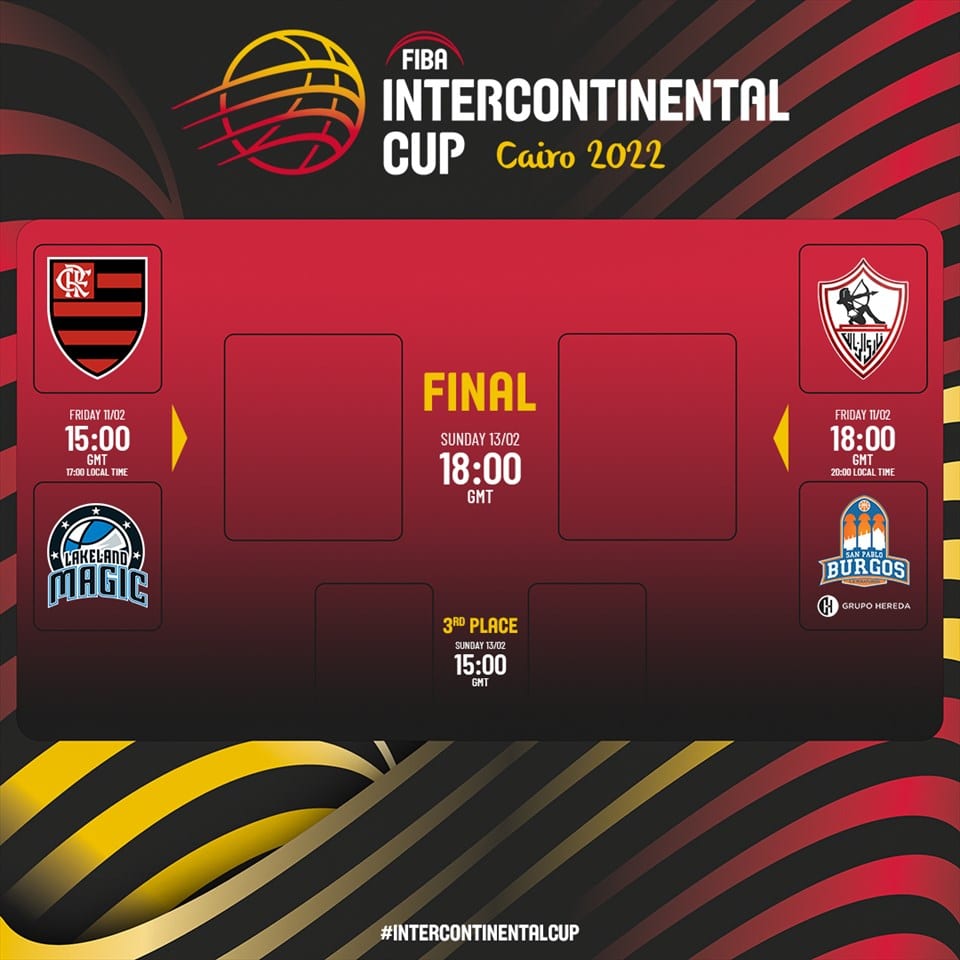 FIBA Intercontinental Cup 2022 Couples Draw
The official draw for the FIBA ​​Intercontinental Cup 2022 concluded on Saturday, revealing the path to the trophy for each of the four contenders at the big event which will take place in Cairo, Egypt, from February 11-13, 2022.
The spectacular Giza Plateau served as the backdrop for the draw ceremony for this landmark edition of the FIBA ​​Intercontinental Cup, as it is the first time in history that an African country has hosted the competition.
The first semi-final, which will lift the curtain on the tournament at the Egyptian capital's Hassan Moustafa Sports Palace, will feature a clash between the two representatives of the Americas as Flamengo, champions of the Basketball Champions League Americas 2020-21, will face NBA G League Winners 2020-21 Lakeland Magic.
In the second semi-final, hosts Zamalek SC Cairo, champions of the inaugural Basketball Africa League campaign, will face 2020-21 Basketball Champions League winners Hereda San Pablo Burgos, who are also current holders. of the FIBA ​​Intercontinental Cup title.
The semi-final between Flamengo and Lakeland Magic will take place at 5:00 p.m. local time (15:00 GMT) on Friday February 11 and that between Zamalek and Burgos will start at 8:00 p.m. local time (18:00 GMT). GMT) on the same day.
The winners will face off in the final at 8:00 p.m. local time (6:00 p.m. GMT) on Sunday, February 13, with the match for 3rd place taking place at 5:00 p.m. local time (15:00 GMT).
The FIBA ​​Intercontinental Cup 2022 ambassador, Egyptian football legend and former Zamalek Mido player, accepted the task of leading the draw on the Giza plateau and took the opportunity to profess his love of basketball.
The distinguished panel at the ceremony included Egyptian Minister of Youth and Sports Ashraf Sobhy, FIBA ​​Africa Zone 5 President Hesham El-Hariri, Egyptian Basketball Federation President Magdy Abou Frekha and CEO of the BCL Patrick Comninos.