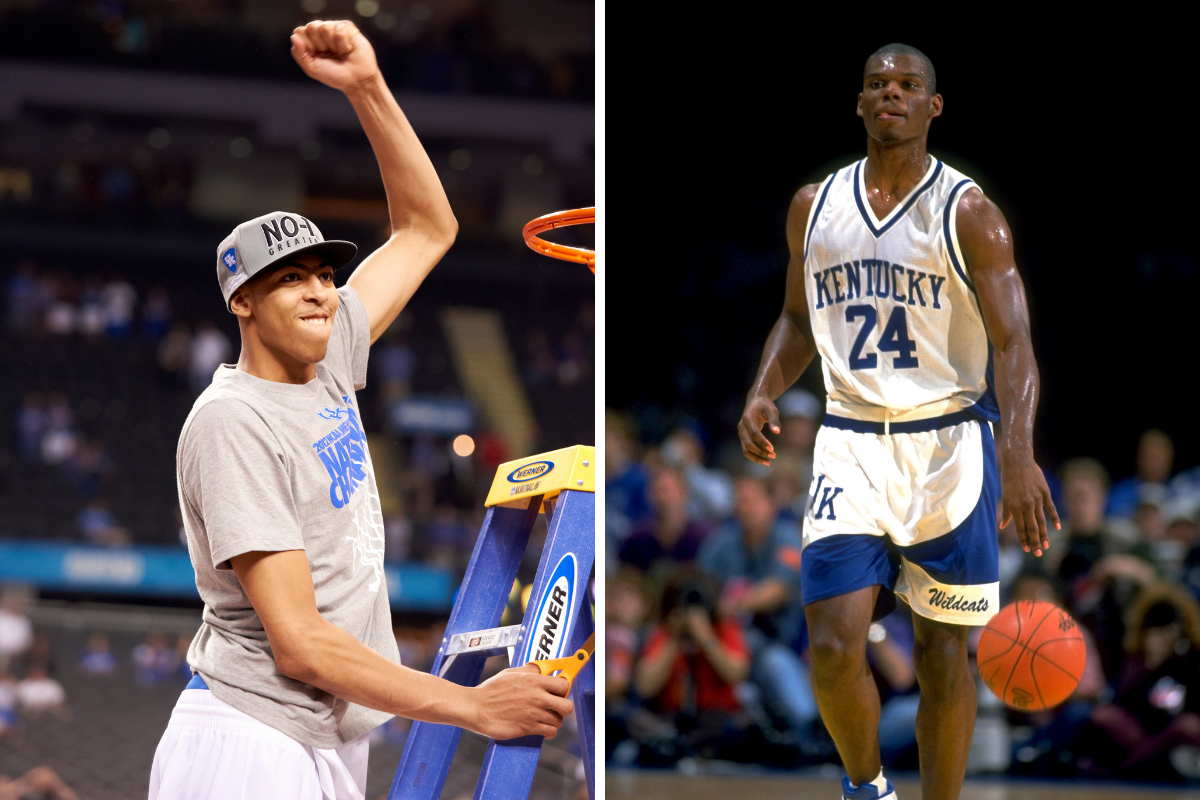 Kentucky's Best Basketball Players: Kentucky's All-Time Starting 5
Here's a stat for you: The Kentucky Wildcats produced 43 NBA draft picks since John Calipari took over as head coach of the program in 2009. To put that into perspective, Duke, the next closest school, has produced 28. Clearly Lexington, Ky., is the place to go for young high school players with NBA aspirations. .
I would be remiss to say that the University of Kentucky is nothing more than an NBA factory. The Bluegrass-country team has pride of place among blue bloods in college basketball. His Continue speaks for itself: Eight national championships, 17 Final Fours, 59 NCAA Tournament appearances and 33 SEC titles. Only UCLA has more national championships, and only UCLA and North Carolina have more Final Four appearances.
From Adolph Rupp and Joe B. Hall to Rick Pitino, Tubby Smith and Cal, Kentucky has as illustrious a hoops history as anyone. Naturally, with so much success, that means several phenomenal basketball players have stepped onto the Rupp Arena floor. But who would be the program's all-time starting lineup?
I could choose any current NBA players and have a starting five that would put most schools to shame. However, this is Kentucky we're talking about, and historic players deserve just as much recognition as those from the Calipari era. So let's go.
Here are Kentucky's all-time starting five.
Kentucky Basketball's All-Time Starting 5
Guard: John Wall (2009-10)
John Wall was the nation's most electric player in his only college basketball season. Like Anthony Davis, Wall was also the SEC Player of the Year, SEC Rookie of the Year, and a consensus First-Team All-American. Not bad for a diaper dandy.
The point guard, along with DeMarcus Cousins ​​and Eric Bledsoe, were the first of many elite prospects Calipari would bring to Lexington. Wall was the crown jewel, however, and used his blistering speed to average 16.6 points, 4.3 rebounds and 6.5 assists.
His insane athleticism, goalscoring and passing abilities make him the perfect guy to run the show.
Guard: Tony Delk (1992-96)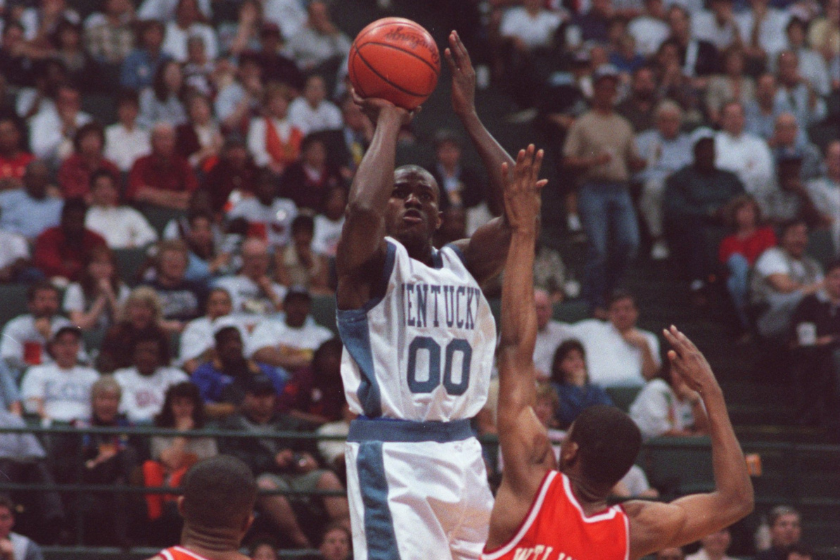 It's never a bad thing to have more shots, and there's no better shooter in Kentucky history than Tony Delk. The shooting guard has shot 39.7% from downtown in his four-year career, including a ridiculous 44.3% as a senior.
Delk, along with Antoine Walker and Walter McCarty, headlined "The Untouchables" and led Big Blue Nation to their sixth national championship in 1996. The natty was the icing on the cake of an already incredible season for Delk, who went on to be named the NCAA Finals. Four Most Outstanding Players and already had an SEC Player of the Year award to his name.
Delk left Lexington as program all-time leader three-pointer with 283, a mark he still holds to this day.
Striker: Jamal Mashburn (1990-93)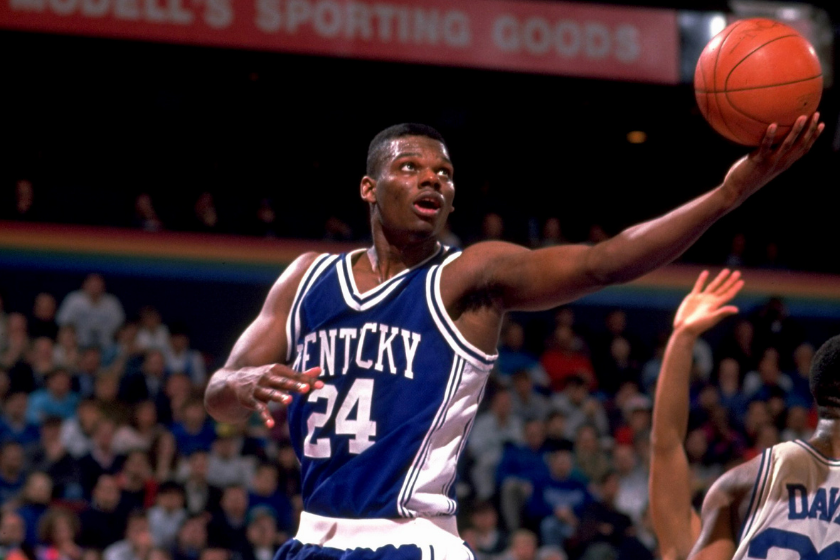 RELATED: What Happened To Jamal Mashburn & Where Is He Now?
Pure and simple, Jamal Mashburn was a stallion during his three seasons at Kentucky. He had some good underclass years, but he really stepped up his game as a junior. That year he was a consensus All-American, SEC Player of the Year, and led the Wildcats to the 1993 Final Four, where they barely fell to Michigan's Fab-Five.
Mashburn was a dynamic bucket-getter and left Kentucky as the fourth leading scorer in the program (he's now sixth). Had he stayed for his senior season, he likely would have held the No. 1 spot.
Forward: Anthony Davis (2011-12)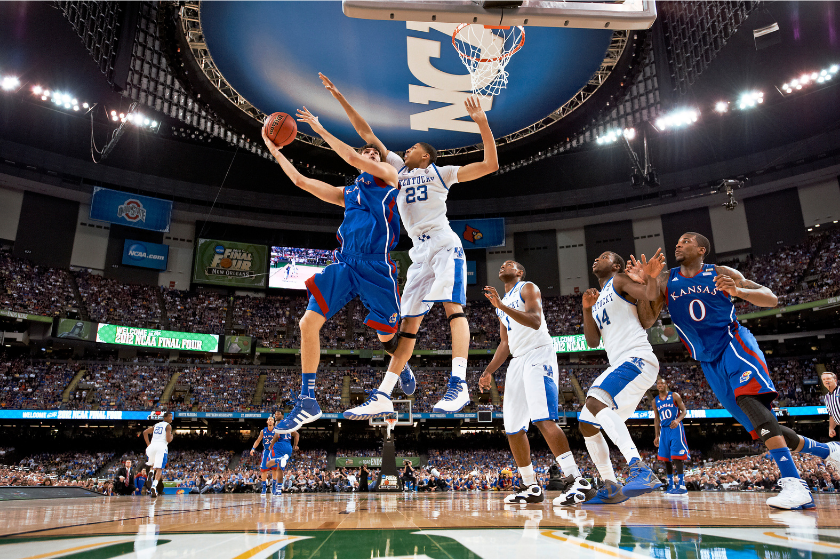 Anthony Davis had one of the most dominant college basketball seasons in recent memory. For one, he was a defensive force and averaged an astonishing 4.7 blocks per game, which made it nearly impossible to get a clean look against him in the paint.
Second, you need look no further than his performance against Kansas in the 2012 national title game to gauge his impact. Davis scored just six points but had six shots and 16 rebounds en route to a 67-59 win. It's rare to find a player who can make such a big difference without needing to score.
Third, the big man has won every conceivable award he could, such as National Player of the Year, SEC Player of the Year, SEC Rookie of the Year, SEC Defensive Player of the Year, and Most Valuable Player. remarkable from the NCAA Final Four to accompany the First-Team All-American and First-Team All-SEC nods.
As the catalyst for the Wildcats' most recent national title run, Davis was a bona fide lock to make the all-time team.
Center: Dan Issel (1967-70)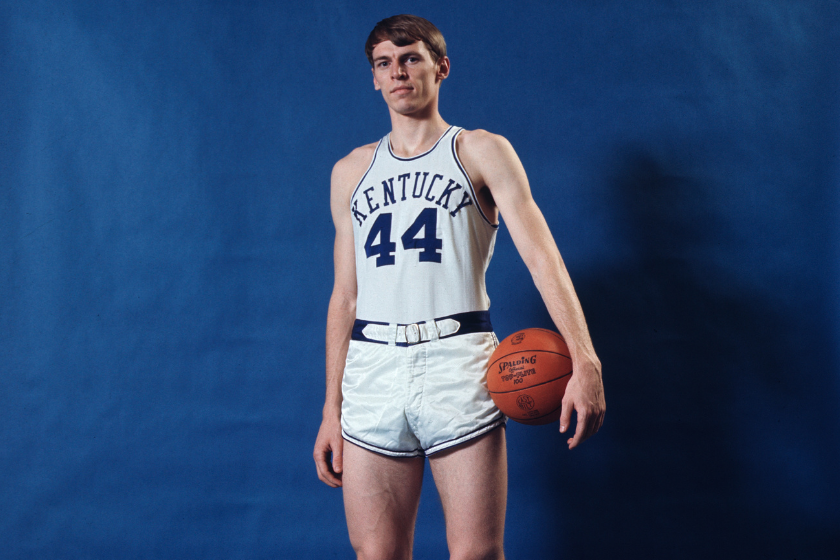 I could very well defer to recency bias and put Karl-Anthony Towns here (believe me, it's a hard omission being a Minnesota Timberwolves fan), but who would I be to leave probably the best player in the history of the program and a famous Basketball Hall of Member?
Like his fellow Wildcats in the lineup, Dan Issel received his fair share of individual recognition, such as being a two-time All-American and a three-time All-SEC. But, part of what makes Issel's career standout, aside from being the program's all-time leading scorer, is his cold rivalry with LSU star Pete Maravich.
Maravich averaged a ridiculous 44.2 points per game during his college career (he was obviously awesome, but let's not forget his dad was the coach) while Issel averaged 25.9 points. per game, including 33.9 as a senior. Issel and Maravich were the top two SEC Players of the Year in each of their three seasons at their respective schools, with Maravich coming out on top each time. However, Issel had much more success as a team, with Kentucky making two Elite Eight appearances with a Sweet Sixteen.
"Pistol Pete" is widely regarded as the greatest college player of all time, but Issel measured up to him as well as anyone else. He was also exceptionally successful ABA and NBA career.
Off bench:
Cliff Hagan (1950-54)
Jack Givens (1974-78)
Kenny Walker (1982-86)
Anthony Walker (1994-96)
Karl Anthony Towns (2014-15)
Related videos