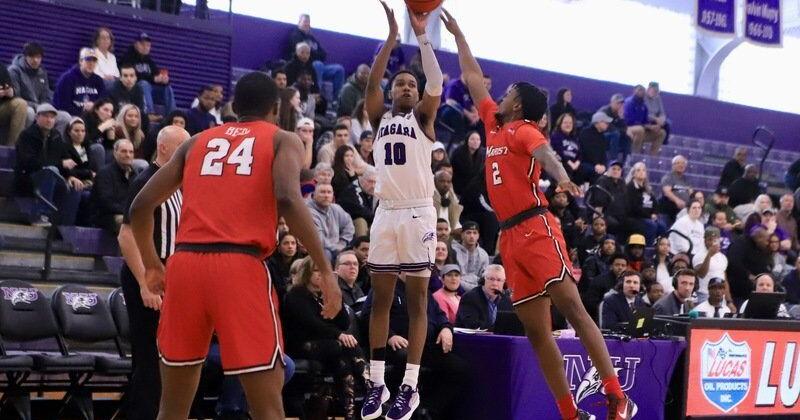 Niagara basketball teams ready to start tournament | Sports
New seasons begin today for Niagara University's basketball programs.
The NU men and women have finally embarked on their tournament journeys from the Metro Atlantic Athletic Conference to Atlantic City after earning byes to the first round of the regular season, pushing them through to the final three days. .
The men (14-15, 9-11 MAAC) finished fifth, winning their final two games by a combined 53 points after suffering four losses by an average of 14 on a five-game road trip.
Their reward is a quarter-final date with fourth seed Monmouth (19-12, 11-9) at 9:30 p.m. (ESPN+).
"It starts with a kind of reset," head coach Greg Paulus said after Saturday's regular season finale. "This time of year, it's 0-0. Everyone is 0-0. … You start again, and so we want to play with great urgency, but we also want to be able to keep executing and being disciplined.
"…Hopefully we can have a few days of preparation to give us the best chance."
Those odds increased dramatically on Wednesday night, when ninth-seeded Rider defeated No. 1 Iona, 71-70, ending the Gaels' five-game MAAC Tournament championship streak. If Niagara wins tonight, it will face the Broncs at 6 p.m. Friday. The men's championship is scheduled for 4 p.m. Saturday.
NU and Monmouth split their season streak, both winning on the road. The Hawks won the teams MAAC opener 57-49 on December 3. The Purple Eagles returned the favor on Jan. 30, 70-69 in overtime, a game in which Monmouth was without third-team All-MAAC guard Shavar Reynolds Jr.
After an impressive non-conference roster, Monmouth were the only team expected to challenge Iona for the conference crown. But nine of its 12 losses have come in the conference, including three in its last four games.
"We're extremely confident," said Niagara junior guard Noah Thomasson, who scored 27 points in Saturday's win over Marist. "I think we've got a really good team and when we're all connected and playing well I think we're tough to beat. Hopefully we keep the momentum going."
The NU women took the fourth seed, winning seven of their last nine games to finish with a MAAC game winning record (11-9) and an overall rating of 0.500 or better (14-14) for the first time since 2005.
Head coach Jada Pierce's Purple Eagles were fueled by their aggressive, teeming "Hurricane Havoc" defense and finished the season first in the nation in steals per game (13.4). Junior guard Angel Parker also led the nation in that stat individually (4.2) and his 110 total steals broke a 32-year program record in one season.
Parker was unanimously selected to the All-MAAC First Team. Her younger sister, rookie Aaliyah, was announced as the unanimous choice for MAAC Rookie of the Year on Wednesday.
Niagara takes on fifth-seeded Siena (10-18, 10-10) at 2:30 p.m. (ESPN+). The Purple Eagles swept the season streak by a combined 20 points, forcing 32 turnovers in the two outings.
Today's winner will advance to play top-seeded Fairfield at 11 a.m. Friday. The women's championship is scheduled for Saturday at 11 a.m.