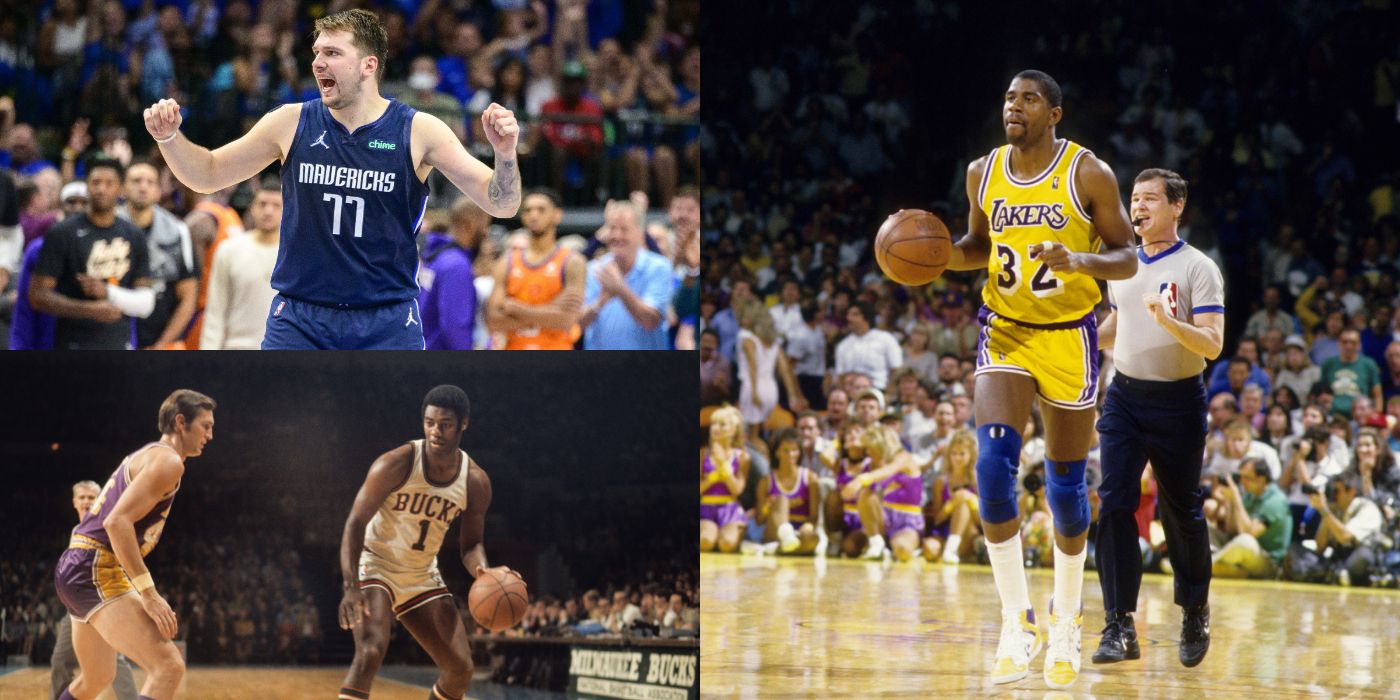 10 basketball players with the most triple-doubles in NBA history
A triple-double is one of the most impressive feats a player can pull off in a basketball game, because hitting double-digits in three different stats isn't easy. This achievement is reserved for the best and most complete players, those who excel in various aspects of the game.
RELATED: Top 10 Picks In The 2022 NBA Draft, Ranked By Their College Stats
The NBA began to take into account the triple doubles from the 1979-80 season thanks to Magic Johnson, but thanks to the basketball reference, we have access to the triple doubles recorded since the 1950-51 season. Since then, many talented players have passed through the NBA, and some of them have recorded dozens, even hundreds of triple-doubles during their career. Without further ado, here are the 10 players with the most triple-doubles in NBA history.
ten

Luka Doncic (46)
Luka Dončić has barely played four NBA seasons and is already among the top 10 players with the most triple-doubles in league history, mind-blowing, isn't it? El Matador has 46 triple-doubles in 264 games played, averaging 26.4 points, 8.5 rebounds and 8.0 assists per game.
It's hard to believe that Dončić already has more triple-doubles than Michael Jordan, Kobe Bryant, Charles Barkley or Kareem Abdul-Jabbar. In fact, Luka Dončić is the only player in NBA history with at least 20 triple-doubles at age 21 or younger. Luka will continue to climb this list for sure.
9

Larry Bird (59)
Larry Bird was not only one of the best NBA players of the 1980s, but one of the best of all time. The NBA Hall of Famer averaged 24.3 points, 10.0 rebounds, 6.3 assists and 1.7 steals per game, recording 59 triple-doubles throughout his career, not including 10 more triple-doubles he recorded in the playoffs.
The Great White Hope had 10 triple-doubles in the 1985-86 and 1989-90 seasons.
8

James Harder (69)
James Harden is one of the best players of his generation, especially in terms of attack. James Harden was the scoring champion for three consecutive seasons, averaging 33.7 points per game during that span. However, The Beard has proven he can contribute more than just points, and his 69 regular-season triple-doubles are proof of that.
RELATED: 5 NBA Teammate Rivalries That Were Resolved (& 5 That Never Were)
On December 31, 2016, Harden put on an epic performance, recording 53 points, 17 assists, and 16 rebounds, leading the Houston Rockets 129-122 victory over the New York Knicks. James Harden has five 50-point triple-doubles, the most of all time.
seven

Nikola Jokic (76)
Back-to-back reigning MVP Nikola Jokić ranks seventh among players with the most triple-doubles in NBA history, with 76, including 19 last season (league leader). This guy is a beast, the best player in the NBA right now, because he can do anything on the court.
Jokić's arguably most impressive triple-double happened on January 19, 2022, when he busted for 49 points, 14 rebounds and 10 assists against the Los Angeles Clippers.
6

Wilt Chamberlain (78)
It's no surprise to see Wilt Chamberlain on this list considering he's averaged 30.1 points, 22.9 rebounds, and 4.4 assists per game over his career. This guy was synonymous with domination and superiority, he was a talent without equal.
RELATED: 10 NBA Single-Season Records That Will Never Be Broken
One of Chamberlain's craziest performances came on February 13, 1963, when he scored 51 points, grabbed 29 rebounds and provided 11 assists, though he couldn't prevent the 134-132 loss. of the San Francisco Warriors against the Detroit Pistons.
5

LeBron James (105)
LeBron James is unquestionably one of the best players in NBA history, some even consider him the best. King James is the complete package, he can excel in all facets of the game, and that's precisely why he has 105 career triple-doubles, not counting his 28 playoff triple-doubles.
LeBron James is the only player in history with a triple-double against all 30 NBA teams, putting in outstanding performances regardless of the circumstances.
4

Jason Kidd (107)
Jason Kidd was one of the best passers of all time, in fact, he is second all-time in assists (12,091) and eighth in assists per game (8.7). But in addition to assists, Jason Kidd averaged 12.6 points and 6.3 rebounds per game, so it's no wonder he recorded 107 triple-doubles.
Jason Kidd has led the NBA to triple-doubles 10 times in 11 seasons, which is nothing short of amazing. Jason Kidd's last triple-double came on March 1, 2011, posting 13 points, 13 assists and 10 rebounds in the Dallas Mavericks' 101-93 win over the Philadelphia 76ers.
3

Magic Johnson (138)
This gentleman is the one who popularized the triple-double, since he has shown extraordinary versatility since its inception. Magic Johnson recorded seven league-leading triple-doubles in his rookie year, something he would get used to, as in the 13 seasons he played, he led the league in triple-doubles in 10 of between them.
Magic averaged 19.5 points, 11.2 assists and 7.2 rebounds per game, proving he was a player ahead of his time.
2

Oscar Robertson (181)
Maybe Magic Johnson popularized triple doubles, but we can't forget who really pioneered this feat. Oscar Robertson has scored 181 triple-doubles in his 14-year career, 148 in his first five seasons, which is absolutely insane.
One of the most memorable performances of Oscar Robertson's career came on December 27, 1963, when he recorded 37 points, 22 rebounds and 11 cents in the Cincinnati Royals' 91-87 victory over the Celtics. from Boston. Oscar Robertson was just different, a player for the ages.
1

Russell Westbrook (194)
The player with the most triple-doubles in NBA history is Russell Westbrook, with 194, yes, you read that right. Believe it or not, Westbrook only had eight triple-doubles in his first six seasons, and over the following eight campaigns he recorded 186 triple-doubles, including 42 in the 2016-17 season.
Mr. Triple-Double averaged one triple-double per game between the 2016-17 and 2018-19 seasons (26.8 points, 10.6 rebounds and 10.4 assists), which is just ridiculous and mind-blowing . He scores triple doubles like he's playing NBA 2K, Well, actually, in gaming, it's not as easy as Russell Westbrook makes it seem.