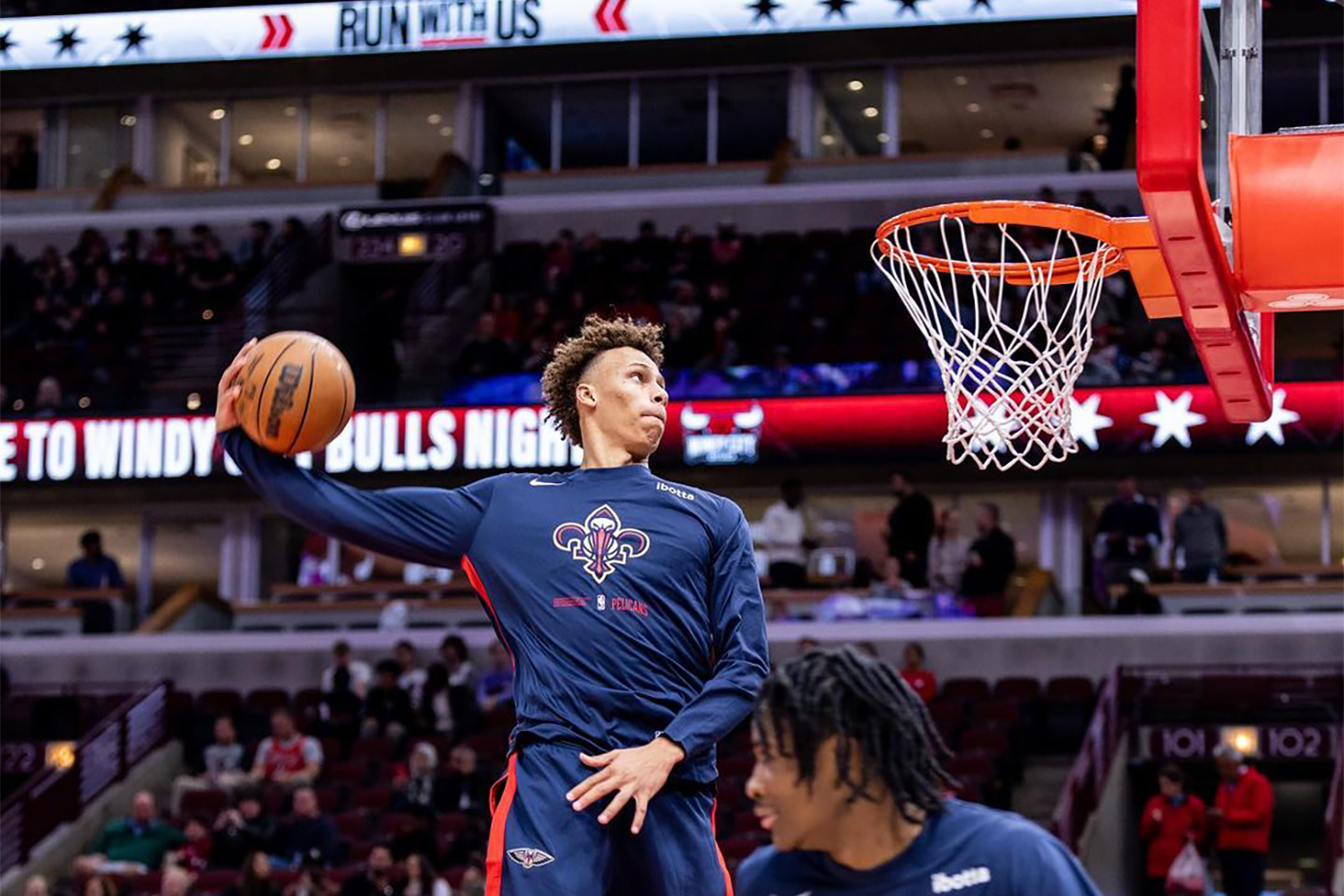 5 things you didn't know about rising NBA star Dyson Daniels
Dyson Daniels looks set to make a big impact in the NBA as Australia's next big star. Before the season ends on Wednesday, here are 5 things you didn't know about the Bendigo lad.
The New Orleans Pelicans selected Australian teenager Dyson Daniels with the 8e pick in the 2022 NBA Draft with aspirations of him becoming a key part of their already talented young squad.
With a superstar name that will have commentators drooling over alliteration opportunities and a skill set to match, Dyson looks set to make some flagship reel sets this season. But many saw Daniel's selection to the top echelon of this year's NBA draft as a surprise, given how little was known about him before he burst onto the scouts' radar in the NBA combine.
Dyson's rapid rise to the NBA has been spurred by the guard's playmaking and defensive abilities, as well as his enormous potential, with some scouts saying he could be the NBA's next big star.
With the NBA season just around the corner, here are five things you didn't know about Australia's next basketball star: the Bendigo boy.
1. Dyson comes from a family of basketball players.
Dyson's American father, Ricky Daniels, played college ball for NC State before crossing the Pacific Ocean to play professionally in Australia. Senior Daniels' career with the Bendigo Braves is legendary. Ricky won two league most valuable player awards while with the team and his number 23 jersey was retired in 2011.
With his dad a legend on his hometown basketball team, Dyson had a lot on his plate. Dyson also played for the Braves, making his debut at just 16 years old.
Dyson isn't the only one in his family making big plays on the court. Dyson's brothers Dash and Kai are catching the attention of NBA scouts with their impressive play. Older brother Kai plays college basketball for Regis University. While younger brother Dash, who continues the Daniels' penchant for superstar-style names, has followed in his father's footsteps and is playing for the Bendigo Braves at just 14.
2. He took an alternate route to the NBA
Dyson has received several offers from prominent colleges across the United States and a slew of Australian teams interested in making the immediate leap to professional basketball. But Dyson let them all pass. Instead, he opted to become the first Australian to play for the G-League ignite, an NBA development league team focused on developing young prospects and preparing them on their way to the NBA.
The G-League ignition was created in 2020 as an alternative path to the NBA. The team offers experience and an opportunity to get paid for the best young prospects in the world. The Ignite play against pro-level talent in the NBA's minor league association, the G League, and offer salaries of up to $500,000.
"I was almost certain I was going to the NBL. I was almost certain before I was offered to go and play on the G League Ignite team. Daniels told basketballnews.com.
The move has obviously paid off since then. Dyson's play caught the attention of NBA scouts and led him to be just the fourth Ignite player to be drafted into the NBA.
3. Dyson was a young soccer star
A multi-sport athlete as a child, Dyson was once on the path to a promising career in the AFL. Dyson was a member of Victoria's Under-12 representative team in 2013, in a squad that included nine future AFL players.
Dyson credits his soccer playing experiences as crucial in developing his basketball skills.
"I played AFL football growing up, so it's a physical and contact sport," he told Zero Hanger. "I think it helps me on the basketball court with my physicality and my ability to read the game."
Dyson's rookie deal with the Pelicans will earn him around A$4.4 million a year, well above the AFL's highest-paid players. So it looks like Dyson made the right choice money-wise when choosing his sport.
Nine players from Victoria's 2015 Under-12 team have finally been drafted onto an AFL roster.

Now Dyson Daniels lands the Pelicans with the 8th pick in the NBA draft. Seen here sitting between Essendon's Ben Hobbs and Hawthorn's Josh Ward. @AFLcomau https://t.co/JKLjaAzhHg pic.twitter.com/ocrjr4ndXX

— Riley Beveridge (@RileyBev) June 24, 2022
4. He's a single player
At 6-foot-8, Dyson is taller than most NBA guards, but there's more to his game than just his height. Australia have become known for producing oversized guards with exceptional playing and defensive abilities, with Ben Simmons, Josh Giddey and now Dyson being the biggest names in a steady stream of Australian talent.
Daniels described his game to basketballnews.com as "different from anyone else's." The young star has no one to compare herself to and no one to model herself after. The result is a skill set the NBA has never seen.
Dyson's defense is the signature tool in his arsenal, with the ability to block even the best offensive players. As Dyson previously noted, sometimes the best offense is a good defense: "That's how I generate a lot of my offense. I like to think of myself as just 'smart' defensively, being able to intercept, being able to keep 1-4, about 5."
Despite his defensive prowess, it was Dyson's playing ability that turned heads in pre-season. "I'm a playmaker, I like to make plays on the dribble for my teammates and myself. Get in the lanes and use my floaties," he said.
Being an elite defender will keep you in the NBA.

Dyson Daniels is a rookie defending like an All-NBA veteran in the preseason. Versatility vs the 5 spots, motricity, intuition. A big part of why I ranked Dyson in the top 5 prospects in this class💪📈pic.twitter.com/tK2yLo3z4r

— Ryan Hammer🔨 (@ryanhammer09) October 8, 2022
5. He is already a national team regular
Age is no barrier for Dyson internationally. He made his debut for Australia's senior national team, the Boomers, last year when he was just 17. He impressed on his debut, an Asian Cup qualifier, leading New Zealand with 23 points, 6 steals, 4 assists and 3 rebounds.
Dyson says playing for the Boomers was an integral part of his development on his way to the NBA, "It was also very important to me. Being able to play for the Boomers in the Asian Cup playoffs at such a young age, some people don't have that opportunity," Daniels said.
Dyson played for Australian youth teams before being called up to senior level. He stood out at the FIBA ​​U19 Basketball World Cup 2021 and has since cemented his place at the top level.
---
A slew of young stars have entered the NBA in recent years. Big names such as Ben Simmons, Josh Giddey and Matisse Thybulle have elevated Australia's reputation on the international stage. While veterans Patty Mills and Joe Ingles led the national team to heights never before achieved. With the addition of another future star in Dyson Daniels, the future looks bright for Australian basketball.