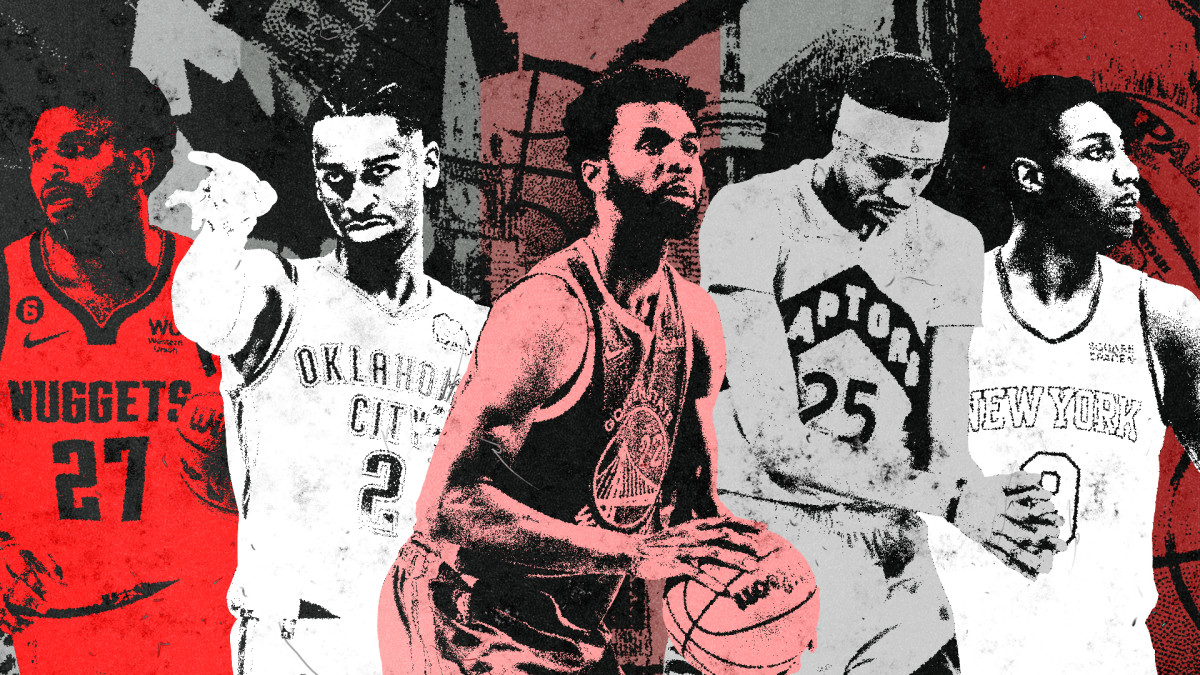 Best Canadian Basketball Players: All-Canadian NBA Starting 5 for 2022-23
It's been a great summer for Canadian basketball. The men's national team have won all of their qualifying matches for next summer's world cup, while the women finished fourth at the FIBA ​​Basketball World Cup 2022, their best result in international competition since 1986. .
But with summer winding down and the NBA opening night here, it's time to step up to the best men's basketball league on earth.
This season, a record 28 Canadians have found themselves on NBA training camp rosters, including the four rookies selected in the 2022 NBA Draft. And while the depth of Canadian talent is clearly better than ever, so has the country's top talent, with Andrew Wiggins making his first All-Star team last season, becoming Canada's first All-Star player since Steve Nash in 2012. With Jamal Murray returning from a injury and RJ Barrett finally playing alongside a proper playmaker, there are a number of Canadians ready to follow in Wiggins' footsteps and break through this season.
It's an exciting time for Canadians in the NBA. And to get you ready for the season, we've created an All-Canadian Starting Five of the best NBA players north of the border.
Leader: Shai Gilgeous-Alexander
Statistics 2021-22: 24.5ppg (55.7TS%), 5rpg, 5.9apg, 1.3spg, 0.8bpg

Also considered: Dalano Banton, Josh Primo
Shai Gilgeous-Alexander is the best Canadian basketball player in the world right now, so it shouldn't come as much of a surprise to find the 24-year-old from Hamilton, Ontario. native occupying the point for this team. SGA only gets better as he grows as the primary ball handler for the Oklahoma City Thunder and Team Canada, where he is a master manipulator with an innate ability to control the play, never predetermining his actions and rather reading the defense at all levels. before making his move.
The "hesi-God", or stop-and-start master of the league, is an elite builder who keeps his defender guessing, baiting them with hesitant dribble or recoil and either sinking into the paint if they bite, or just taking the shot if they give him room. SGA is one of the most frequent and efficient drivers in the entire NBA because once he gets past his man he has the body control to get into the paint and the game vision to pulverize every pass of the book, even in the tight spaces that have become normal in OKC. Now, if he's able to play more than the 45.5 games he's averaged over the past two seasons, while potentially seeing his three-point shot bounce back towards his 2020-21 average of 41.8% (after hitting just 30.0% last season), SGA is ready to build the first all-star team of his career.
With all due respect to up-and-coming young playmakers like Banton or Primo, who could one day replace Canada's premier ball handler, it's definitely Gilgeous-Alexander's team.
Shooting guard: Jamal Murray
2020-21 statistics: 21.2ppg (59.2TS%) 4rpg, 4.8apg, 1.3spg, 0.3bpg

Also considered: Lu Dort, Nickeil Alexander-Walker
Any good ball handler needs good shooters around him, and Jamal Murray is the best shooter in Canada, placing himself well alongside SGA in the starting backcourt for this drill and hopefully soon for Team Canada . The 25-year-old combo guard from Kitchener, Ontario. returns this season after almost two years on the shelf due to a torn ACL in his left knee, but he's the same player who put up historically good numbers the last time he was in the playoffs, with a averaged 26.5 points and 6.6 assists. en route to the conference finals in 2020 – including a 50, 42 and 50-point explosion in the first-round series against the Utah Jazz, and which hit a career-high 41% on three next season . Murray is a magician on and off the ball, with the ability to create for himself with his patented step back three, body contortion to finish around the rim and a knack for hitting big hard shots at the end of the ball. matches. Murray will slowly regain his form as the season progresses, but if he reestablishes himself as one of the best young guards in the NBA by the playoffs, his Denver Nuggets could rightfully win the championship.
Montreal's Lu Dort could fit in here for defensive purposes, as one of the best ball hawks in the NBA who had a 33% improvement on 7.8 three-point attempts per game alongside SGA at OKC last season. But Murray is a good defender in his own right and just too good a scorer and playmaker to sit on the bench.
Small Forward: RJ Barrett
Statistics 2021-22: 20.0ppg (51.1TS%), 5.8rpg, 3apg, 0.6spg, 0.2bpg

Also considered: Dillon Brooks, Oshae Brissett
With the entire backcourt, the Canadians need some defense and size at the small forward position. And few Canadians are better equipped to slow down the NBA's elite wings than RJ Barrett, who at 6-foot-6 and 214 pounds is emerging as one of the strongest, most versatile and most versatile defensemen. NBA interchangeables. Additionally, the murderous southpaw has improved as an offensive starter each season despite the lack of New York Knicks infrastructure around him, improving his handling, shooting, game and aggression as he understands better. that he is better when driving to the edge rather than settling. for jumps. Barrett, 22, is set for a breakout season as he will finally play alongside an elite point guard in free agent signee Jalen Brunson, who will open space for Barrett to attack the paint. If Barrett can put it all together – defending, driving, finishing and three-point shooting, which fell off a cliff last season after hitting 40.1% the previous season – Barrett could have his best season yet. this day.
Dillon Brooks from Mississauga might like a word with this selection because Brooks likes to have a lot of words with many different people, never too shy to let his feelings be heard and said. Scotiabank Arena crowd "it's my house!" after leading the Memphis Grizzlies to a win over the Raptors last season. But as much as Brooks brings a defensive edge to his teams, he also takes away with his questionable shooting selection, giving Barrett, who is much younger and has more room to grow, the slight advantage.
Power forward: Andrew Wiggins
Statistics 2021-22: 17.2ppg (56TS%), 4.5rpg, 2.2apg, 1spg, 0.7bpg

Also considered: Brandon Clarke, Kelly Olynyk
There are plenty of good candidates for the power forward position – and I'm tempted to leave Wiggins off this list out of spite over his refusal to commit to the Canadian national team – but how could we leave Andrew Wiggins off the team after all-star season and chasing the NBA championship he just got? The 27-year-old Toronto winger averaged 18/9/2 in the NBA Finals, where he was instrumental in helping the Golden State Warriors defeat the Boston Celtics in 6 games, learning how to be a monster rebounder as you go. along and the warriors needed more of him. Wiggins has improved as a jump shooter in each of his past three seasons, hitting 39.3% of his threes last season, and he's only getting more comfortable playing in space. that Steph Curry and Klay Thompson offer him. He was rewarded with a contract extension this offseason that will keep him at bay for five more years (as long as he stays on Draymond Green's good side).
Both Brandon Clarke and Kelly Olynyk are good candidates for the power forward position – Clarke adding relentless energy as a screener and rebounder, while Olynyk brings the elite shooting and play. But while these two could come into the season with a theoretical chip on their shoulders, Wiggins comes in with a literal chip.
Center: Chris Boucher
Statistics 2021-22: 9.4ppg (57.0TS%), 6.2rpg, 0.3apg, 0.6spg, 0.9bpg

Also considered: Dwight Powell, Khem Birch
What is a center today? While Team Canada might tell you a center looks like Dwight Powell or Khem Birch, with their ability to rebound and protect the rim, a modern NBA center has to do more, providing the kind of stylistic versatility needed to succeed in a variety of matches. And while center remains the slimmest position for Canada, the 6-foot-9, 200-pound Boucher is the only guy who can shoot all three, hitting 33.5% of his threes in his career, and protecting the rim, averaging 1.2 blocks above. his career. But on top of that, unlike other Canadian centers, he also does things that a winger does, passing to perimeter players on the defensive side and attacking closures when people bite down on his catapult jumper. After hitting a career-high 13.6 points per game in 2020-21, he struggled to get out of the gate last season, but slowly got into shape as the season progressed, figuring out how to weaponize his size and speed at both ends of the floor, eventually exploding for 25 points in Game 6 of the Raptors' first-round series against the Philadelphia 76ers. He's set for another big year for the booming Raptors.
Powell or Birch would both be safe choices, as they offer better post defense and a better rebound. But they play one style of play better, which is drop defense, while Boucher can do more. And while rebounding can be a big problem with this Canadian team, it's nothing but a little hard work and elbow grease can't fix. Besides, it's not really a real team.