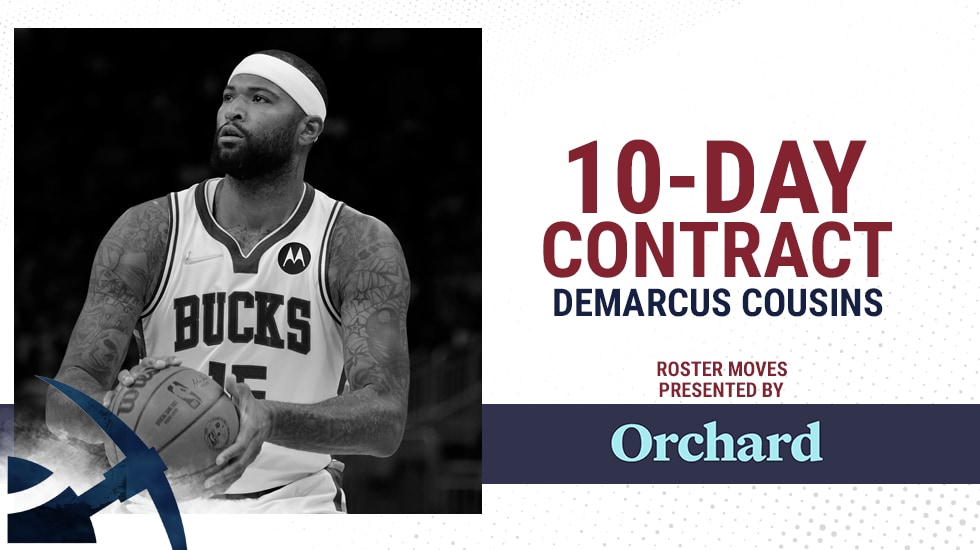 Denver Nuggets sign DeMarcus Cousins ​​to 10-day contract
DENVER, January 21, 2022 – The Denver Nuggets have signed center DeMarcus Cousins ​​to a 10-day contract, president of basketball operations Tim Connelly announced today.
Cousins, 6-10, 270, played in 17 games (five starts) for the Milwaukee Bucks this season, averaging 9.1 points, 5.8 rebounds and 1.1 assists while shooting 46.6% from the field in 16.9 minutes per game. Cousins ​​scored 10+ points in six games and had two double-doubles during his stint with Milwaukee.
The 10-year NBA veteran has played in 623 career games (559 starts) with Sacramento, New Orleans, Golden State, Houston, Los Angeles Clippers and Milwaukee, holding career averages of 20.1 points, 10, 4 rebounds, 3.4 assists, 1.4 steals and 1.4 blocks in 30.6 minutes per game. Cousins ​​made the playoffs twice, in 2019 and 2021, playing 15 games (five starts), averaging 7.6 points, 3.5 rebounds and 1.6 assists in 12.7 minutes.
The fifth overall pick in the 2010 NBA Draft, Cousins ​​was selected to four All-Star Games as a member of the Sacramento Kings (2015-17) and New Orleans Pelicans (2018). He was also named to the All-NBA Second Team in 2015 and 2016 and he won gold for the United States at the 2014 FIBA ​​Basketball World Cup, as well as at the Games. 2016 Olympics in Rio de Janeiro.
Cousins ​​will wear number four for Denver.