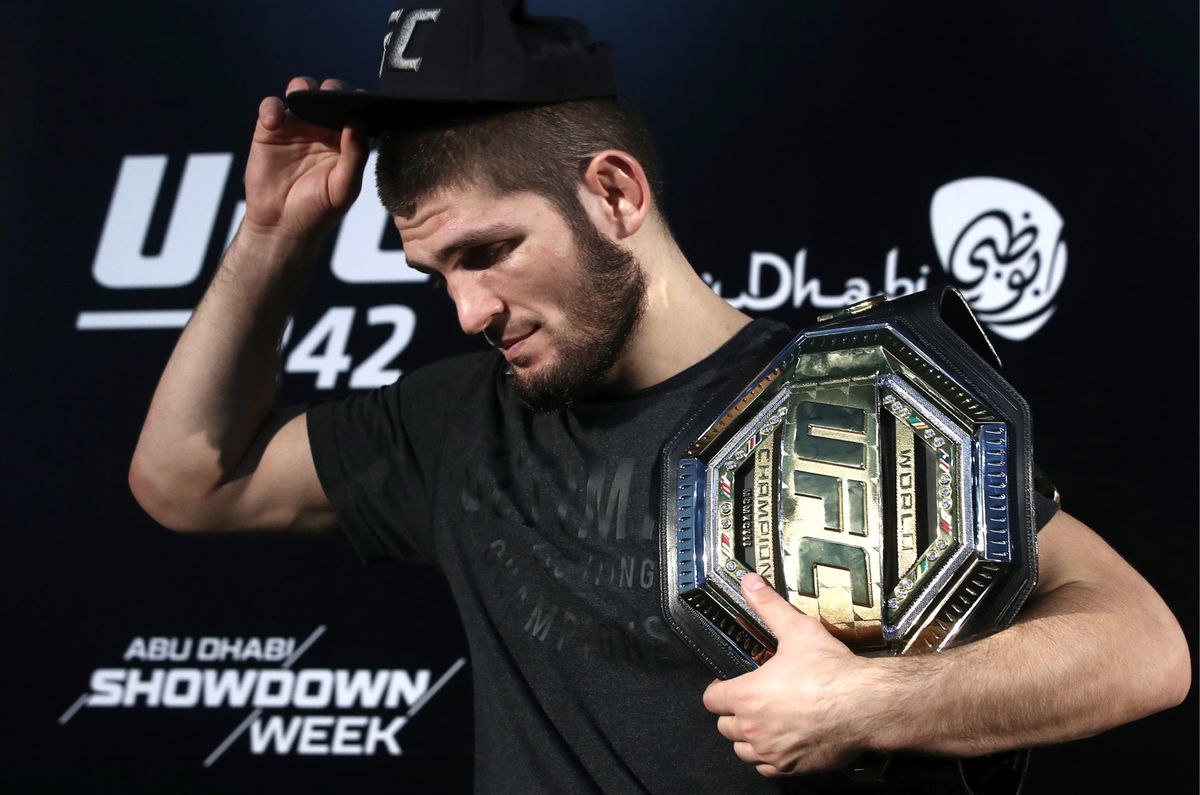 "Imagine if these young basketball players could play with Michael Jordan" – Belal Muhammad on training with Khabib Nurmagomedov
Khabib Nurmagomedov dominated the UFC lightweight division during his reign as champion. It became a brand in itself and opened the doors for many young aspiring Russian MMA fighters to move on to promotion. He currently owns his own MMA promotion called Eagle Fighting Championship and also trains fighters, who currently fight in the UFC.
ADVERTISING
The article continues below this ad
Islam Makhachev, Umar Nurmagomedov and a few other top prospects train under the UFC Hall of Fame. They all feature a similar fighting style that Nurmagomedov made famous during his undefeated career.
ADVERTISING
The article continues below this ad
Recently, UFC welterweight fighter Belal Muhammad was asked about his training experience with "The Eagle". He had nothing but praise and respect for Nurmagomedov's humility, the way he holds himself and coaches other fighters.
In the latest episode of the AbzTalks podcast, Muhammad revealed, "Honestly, it was amazing. I was there for…uh…10 days there with him and his team and…you know, like he was such an icon, such a great mentor to any Muslim fighter If you're a fighter or if you're a Muslim in general, just to see the way he carries himself, the way the world sees him as such a humble guy, and how he really is even in person.
He then focused on the training experience with the "GOAT" and called Nurmagomedov the Michael Jordan of MMA.
"Being able to train and move and learn from him was even better too because you learn from the GOAT. You learn from the Michael Jordan of sports… Imagine if, like these young basketball players, you could play with Michael Jordan in his prime. Khabib' is still at his peak, it's not like he fell or anything like that," said Muhammad.
He also hailed the rigorous training the Dagestani fighters undergo and hailed their rugged personalities while calling 'The Eagle'. "Not the best coach."
He added, "He [Khabib Nurmagomedov] is a beast, so I have to ride with him, train with him and put myself under his coaching where you know he's not the nicest trainer. So it's good to see how these guys train because all these guys, Dagestan guys, they're all monsters, they're all beasts.
Belal Muhammad had a 10-day training camp with Khabib Nurmagomedov and his team before his UFC Vegas 21 fight Leon Edwards.
Joe Rogan calls Khabib Nurmagomedov the "GOAT"
Joe Rogan has been in the UFC for a long time and has seen many top fighters perform live. He also hosts his podcast, The Joe Rogan Experience, where he discusses various topics including the UFC with his guests.
On a recent episode of JRE, Rogan spoke about Russian-born UFC fighters and praised them for their raw strength. He mentioned top welterweight prospect Khamzat Chimaev and called him "one of the best fighters" in industry.
He also mentioned Khabib Nurmagomedov, and casually called him the GOAT.
ADVERTISING
The article continues below this ad
Roger said, "One of the best guys right now is from Chechnya, this guy Khamzat Chimaev." "There is obviously Khabib, Khabib Nurmagomedov, who is the GOAT, he is from Dagestan," he added.
Nurmagomedov retired as an MMA fighter in 2020 with a clean sheet 29-0 disk. The UFC recently inducted him into the UFC Hall of Fame – Modern Wing at UFC 272: Colby Covington vs. Jorge Masvidal.
ADVERTISING
The article continues below this ad
Is Belal Muhammad right to call Khabib Nurmagomedov the Michael Jordan of MMA? Share your thoughts in the comments below.
WATCH THIS STORY: Five times Khabib Nurmagomedov was the funniest guy in the room
Did you enjoy reading this article? Download our exclusive app to get 24/7 coverage of the latest memes and social media jokes. Click here to download.