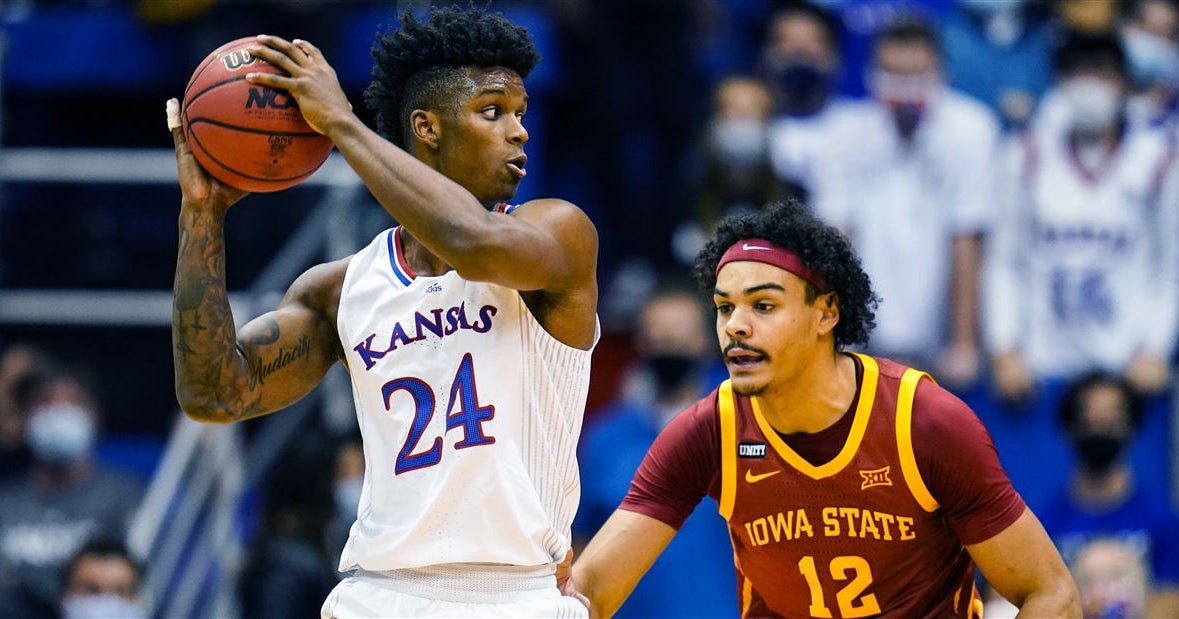 KU basketball players and coaches thrilled with Late Night in the Phog special edition
Kansas' Late Night in the Phog celebrates the start of the basketball season each year, but this year the ceremony is different than in recent years. Friday's 38th annual night will feature an unveiling of the Kansas Men's National Basketball Championship and Big 12 Championship banners, a presentation of the championship rings and a performance by the former NBA star, Shaquille O'Neal.
KU players and coaches are thrilled to commemorate the 2022 National Championship victory in front of a packed Allen Fieldhouse for the first time since the spring. second striker KJ Adams said the team has yet to see the championship rings, so Friday's reveal will come as a surprise.
"I think everyone from last year is just ready to get that ring," Adams said. "I feel like we've been waiting for it for a year. So, I'm just thrilled to see the banner drop and get our rings and play in front of my family again.
Four former Kansas players and national championship team members are expected to attend the ceremony, except for Christian Brown, Ochai Agbaji and David McCormack. The trio have professional obligations with their respective teams.
bill yourself commented that Late Night is always a special time, giving the university a chance to ring in the new season and introduce the new-look team. However, he said he was thrilled with what this year's ceremony will bring, as it is a celebration of the past and the present.
"This year's Late Night is special for a totally different reason," Self said. "Dropping a banner and having the guys get national championship rings – those don't fall from the trees, you know, at least for us they don't. This is something that every team, or every university, should be very proud of. And that's something we'll do tomorrow as well.
Adding to the excitement is the scheduled performance of O'Neal, who goes by the stage name of DJ Diesel. Of course, O'Neal is a four-time NBA champion, three-time NBA Finals MVP, and 15-time NBA All-Star. Self said he didn't know O'Neal very well, but was happy to spend time with him. He joked that he hoped Shaq would advise his players to jump higher, be stronger, dunk the ball and make more free throws than him.
Adams agreed that he was happy to learn some advice from compatriot O'Neal. He said he grew up watching O'Neal because of his mother and even bought him a Shaq jersey for his birthday.
"I'm really excited to see Shaq, to ​​meet Shaq because he's my mom's favorite player," Adams said. "I always hear about Shaq. We have Shaq posters all along the walls, so I'm just excited to see him in person. This will be the first time I've seen him in person.
Even amid all the anticipation of a national championship ceremony and O'Neal's visit to Allen Fieldhouse, Adams is ready to show off his skills in the Late Night scrimmage. He said he wanted to show some things to coaches and fans on Friday.
"My athleticism, and how much my game can grow and how much I can improve over the course of the year," Adams said. "I feel like from the short time I've had during the season [last year]I feel like no one really got to see KJ, the game I have.
Friday's showcase is an opportunity for Adams and the rest of his teammates to start the season in a positive light. He said this year's freshman class has improved a lot throughout the summer and the team is currently in a good position.
Now they're ready to share that progress with fans. Late Night in the Phog begins at 6 p.m. inside Allen Fieldhouse.