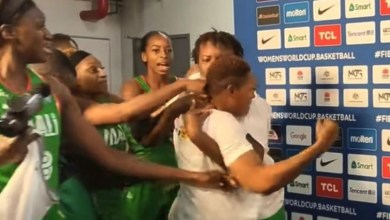 Malian basketball players trade blows after losing to Serbia
The blows were exchanged between Salimatou Kourouma and Kamite Elisabeth Dabou during a post-match interview with the Serbian media
By Folayemi Oladimeji
Two members of the Malian basketball team met on Monday (September 26th), following their last defeat in the Women's World Cup.
The fight between Salimatou Kourouma and Kamite Elisabeth Dabou broke out during a post-match interview with Serbian Sasa Cado in the mixed zone and was caught on camera by a Serbian press camera.
– Advertising –
Basketball's world governing body has launched an investigation after players from Mali's women's team were filmed physically fighting after their World Cup loss to Serbia in Sydney.
Kourouma is under contract with Stade Malien, a professional team based in Bamako, the capital of Mali, while Dabou plays for Center Dorinthie Basket.
Originally, Mali didn't even have the chance to participate in the Women's World Cup. It was a late entry to replace Nigeria, which had administrative problems.
A Fiba spokesperson confirmed they were aware of the incident.
"FIBA today acknowledged that there was an altercation between Malian players in the mixed zone after the Serbia-Mali Group B game at the FIBA ​​Women's Basketball World Cup ​​2022," said a statement provided to Guardian Australia.
– Advertising –
"Following the incident, FIBA ​​has opened an investigation. Once the investigation is completed, FIBA ​​will decide on the applicable disciplinary measures."
READ ALSO
Ndidi went fit for PL clash against Nottingham Forest
Mali qualified for their second World Cup as a late replacement for Nigeria who withdrew due to administrative difficulties surrounding the sport in their country.
Mali ends its tournament Tuesday, September 27 against Canada.