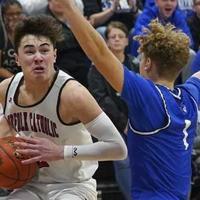 Men's basketball teams gear up for sub-district action | To select
The home stretch has arrived for high school basketball.
The brackets for the sub-districts were released Tuesday by the NSAA. The region's teams will play their last regular season games this Friday. The sub-district quarter-finals are scheduled to start on Monday, with the semi-finals and finals taking place on Tuesday and Thursday respectively.
There are a few teams that I think are safe no matter how they are doing. Some will have to wait and see what happens statewide, and others need to win their sub-district for a chance to play basketball beyond next week.
We have five districts with two or more teams in this week's rankings, which remain unchanged from last week. In C1-7, Wayne enters as the No. 1 seed, but Winnebago will be tough in 2 place. O'Neill is the only team rated at C1-8, but Boone Central and Pierce are among those who could end the Eagles' season early.
The C2-6 bracket sees Hartington Cedar Catholic and Laurel-Concord-Coleridge leading the pack. Howells-Dodge enters as the No. 1 seed in C2-4, but he will have tough opponents in 16-6 Wakefield and a Wisner-Pilger side that not only hosts, but is better than its record (10-11 ) show .
Personally, I can't wait to see what happens in C2-5 in Madison. Humphrey/Lindsay Holy Family enters as the No. 1 seed with Norfolk Catholic at No. 2. At No. 3 and 4 are Lutheran High Northeast (17-3) and Elkhorn Valley (18-4), which I think both will have to really show up to improve their wildcard rating and make a district final.
Walthill and Elgin Public/Pope John and Ainsworth all enter their sub-districts as seeded. However, the Bulldogs will have a challenge in D1-6, as they could face Burwell – the fourth in title – in the final.
Wausa and Wynot hold the first and second seeds in D2-5 while O'Neill St. Mary's and Stuart are the top seed in D2-6. Keep an eye out for Humphrey St. Francis at D2-4. The Flyers group consists of Osceola and Lincoln Parkview, both of which are ranked in the top 10 in the wildcard rankings. The fourth seed is a Lutheran side from Waco Nebraska who are 14-7.
Once these are completed, we will have district finals on Saturday February 26; Monday, February 28; and Monday, March 1, to see who's going to Lincoln. We're in a rush to finish, and I can't wait. Take it all, guys.
Humphrey/Lindsay Holy Family picked up a decisive win on Saturday, beating Class C1 Milford 59-44 at the Heartland Hoops Classic on Grand Island. This team has been great down there, and that will be more important than ever with their sub-district teams, many of which have the athletes to challenge them down there. The Bulldogs will travel to face Plainview and play against Madison or Elkhorn Valley to start the sub-districts.
Howells-Dodge picked up a gutsy 50-47 win over North Bend Central on Thursday. Much like the Bulldogs, the Jaguars will need to be tougher on the inside, especially when the opposition is bigger than them. They will need to be less hesitant in these situations and be more willing to drive and make contact. They travel to take on Lutheran High Northeast before taking on Tri County Northeast in the sub-district semi-finals.
Wayne suffered a tough 55-51 loss to Class B Seward last Thursday. The Blue Devils are allowing 40.6 points per game, and that will be more important than ever should they face Winnebago in the Finals. Wayne won their previous game 86-53, but this Indian team has improved a lot since then. The Blue Devils wrap up the regular season against Pierce on Friday.
Norfolk Catholic rode David City Aquinas 66-31 on Friday. Thanks to a solid defense and a rotation that goes up to seven, including two great centers in Kade Pieper and Nolan Fennessy, the Knights are closing in on their first state tournament appearance since 2012, when they finished second. of state. The next two matches will see them face off against teams they've beaten over the past month. They will have to go through Hartington Cedar Catholic on Friday and then start sub-district play with a semi-final against Lutheran High Northeast.
Hartington Cedar Catholic defeated Battle Creek 59-39 in its penultimate regular season game on Thursday. The Trojans hold the highest wildcard rating in the C2 class, so they're in good enough shape to make a district final. The balance of their offensive attack will play an important role in the streak, with Jaxson Bernecker and Tate Thoene expected to prove important. They host Norfolk Catholic on Friday before facing either Ponca or Crofton in the semi-finals.
O'Neill beat Ord 75-43 Thursday in their home final. Landon Classen and Drew Morrow had plenty of points for the Eagles, but Keaton Wattier is averaging 14 points in his last three games. His scoring and post play will be a big X-factor for O'Neill as he enters a sub-district where Boone Central, who beat O'Neill at home in January, is the No. 2 seed. Before that, the blue and whites hit the road to face Battle Creek on Friday and then host the Braves on Tuesday.
Winnebago won its seventh straight game and ninth in its last 10, with a 79-63 loss to Santee. What stood out to me the most about the Indians is the difference in how they have won games recently. Prior to Jan. 18, they were 0-7 in games where they failed to score at least 60 points. Since then, they are 4-1. This will help you at a time of year when you need to earn in different ways. The Indians travel on Friday to take on Guardian Angels Central Catholic, then take on West Point-Beemer to start sub-district play.
Laurel-Concord-Coleridge beat Wisner-Pilger 67-59 on Thursday. The Bears have relied on Jake Rath's success underneath as he's averaging 18 points and 10.3 rebounds per game. He's a great player to have, but if the Bears want to declare for the second time in three years (and just the second time since consolidation), they'll have to make the most of the rest of their roster. They conclude the regular season on Friday by hosting Wynot, then face Hartington-Newcastle on Tuesday.
O'Neill St. Mary's picked up wins over West Holt and Spalding Academy last week. The Cardinals are seeded second in the D2 wildcard, so any sort of slippage in the sub-districts isn't catastrophic. That said, if they keep playing selflessly and getting rebounds from everyone, I don't see much trouble in their bracket. St. Mary's will host Elgin Public/Pope John on Friday, then play Chambers/Wheeler Central or Niobrara/Verdigre on Tuesday.
Ainsworth picked up a big win on Friday, beating Class C1 Gothenburg 49-38. Coach Jake Nelson wanted the opportunity to have home-field advantage in the sub-districts, especially with a potential clash against Burwell pending in the final. Now the Bulldogs have it with a chance to improve their No. 3 wildcard spot in Class D1. They host Cody-Kilgore on Friday and Twin Loup on Tuesday.
Wynot's only game last week was a 58-49 win over Hartington-Newcastle. The Blue Devils defense has allowed just 55 or more points twice this season. They lost every time. It's something to watch as they bid for their second straight trip to the state tournament. They travel to Laurel-Concord-Coleridge on Friday, then face Randolph on Tuesday.
Humphrey St. Francis beat Spalding Academy 82-47 on Friday. Jaden Kosch had 26 points while Tanner Pfeifer had 35. Kosch has now scored 42 points in his last two games and could be a big X-factor for the Flyers, who will need team effort to cross sub-districts . And what a difficult sub-district they have. They will face Lincoln Parkview in the semi-finals and potentially Osceola in the final. Both teams are in the top eight of the D2 wild card. Before that, they will face Genoa Twin River on Friday.
Elgin Public/Pope John beat Summerland 73-38 on Thursday. The Wolfpack has already landed its first winning season in program history while claiming the No. 1 seed in its sub-district. These next matches will be a great opportunity for this young team to grow. The Wolfpack will travel to face St. Mary's on Friday in a Niobrara Valley Conference final rematch before hosting either Osmond or Creighton.
Wausa avenged a loss to Osmond earlier in the season, beating them 62-53 on Friday. Jaxon Claussen is averaging 22 points over his last five games and has scored at least 12 in all but two games this season. His scoring ability will be sorely needed down the stretch, but the Vikings will need other players to step in and help him out, especially if they end up facing Wynot in the sub-district final. Of course, there is work to be done before thinking that far ahead. They travel to Bloomfield on Friday and face Winside on Tuesday.
Walthill had its highest scoring game of the season in a 103-64 win over South Dakota's Flandreau Indian on Thursday. The Blujays are 2-5 when scoring 65 points or less, but when they're at their best offensively, there aren't many people who can slow them down. They won't just be the No. 1 seed in their sub-district, but they could be the only team above .500 in the pool if Stanton loses on Friday. First, they travel to Waco to face the Nebraska Lutheran on Friday.
Stuart snapped a three-game losing streak on Friday with a 56-42 win at Randolph. It's important for the Broncos' momentum, but they still need to be able to score if they want to cross the sub-districts. They have 60 or more points in just three of their games this season. They host North Central on Friday, but will then see a Santee team that can be difficult to stop deep to start the subs.
Friday: Howells-Dodge to Lutheran High Northeast, Norfolk Catholic to Hartington Cedar Catholic, Elgin Public/Pope John to O'Neill St. Mary's, Wynot to Laurel-Concord-Coleridge.
Tuesday: Lutheran High Northeast vs. Norfolk Catholic, Humphrey St. Francis vs. Lincoln Parkview Christian, Wisner-Pilger vs. Wakefield, Santee vs. Stuart.