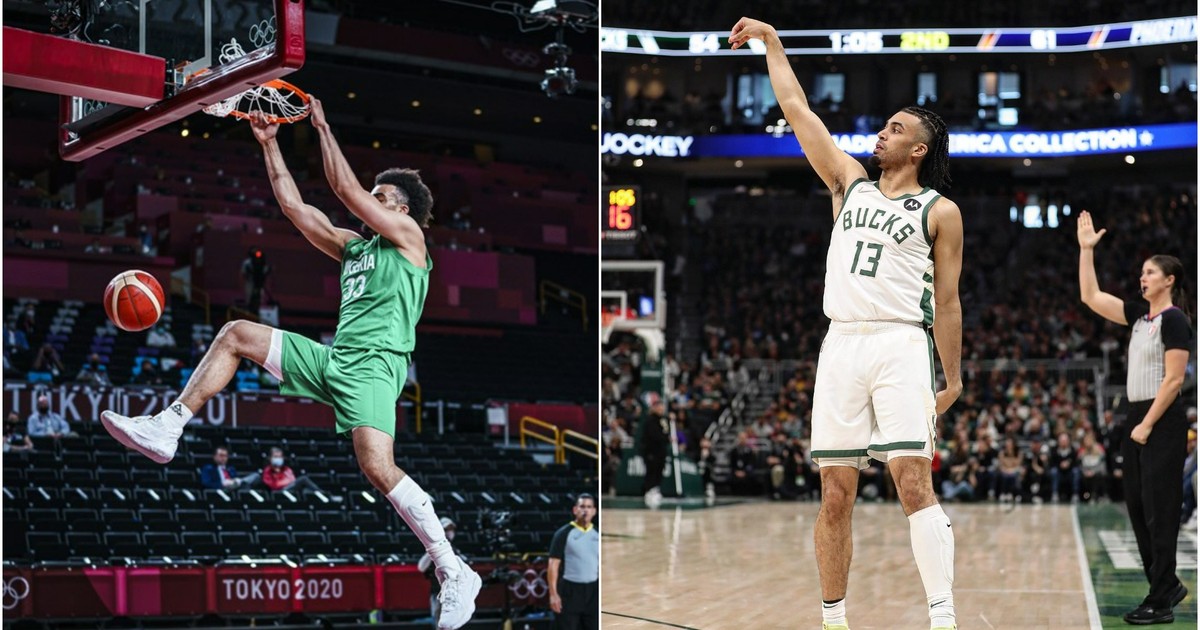 NBA champion Jordan Nwora set to help Nigerian D'Tigers qualify for FIBA ​​Basketball World Cup 2023
In an interview with FIBA, 23-year-old Nwora spoke about the importance of D'Tigers qualifying for the FIBA ​​Basketball World Cup 2023.
D'Tigers made headlines last summer in Las Vegas with a historic upset against the United States in a pre-Olympic friendly.
Nwora was with the Milwaukee Bucks in their championship run at the time the match was played, but made the team in Tokyo.
At the Olympics, Nwora was the team's top scorer with 21 points per game, shooting 48% from behind the 3-point line.
In the interview, Nwora explained that despite the failed progress of the group, Nigerians must not lose faith.
Speaking about his experience, Nwora said, "I learned a lot, so much that it's hard to really list it all. It was one of the most amazing learning experiences of my young life so far. I am so proud to have been part of this campaign.
"We were able to work hard and build a very solid team, and we grew a lot as players, but also as a team, even if we didn't reach the goal we set ourselves before the start. of the tournament.
"It's always a blessing to be able to play against the best teams in the world and to play at the FIBA ​​level, which allows you to adapt to a slightly different way of playing basketball.
"It's always something I love to do and I can't wait for the next competitions to come. Sharing moments with guys like Chimezie Metu, Josh Okogie and everyone in the team and the staff has meant a lot to me. makes you grow as a player, it's for Of course.
"Winning that game against Team USA was a great moment, we can't deny that, and we built our confidence in games like this, but we have to keep working and winning those games competitively.
"I know it will come, our time will come for sure. We are putting all the pieces together and working hard to reach our full potential.
"We had hopes going into the tournament and we didn't achieve our goal, which was to get a medal. But like I say, you live and you learn, and we lost to some really good teams. , with a lot of experience and we will learn from this.
It's a very important competition, especially since the year after, it's the Olympics. We will have to make a good run in 2023 and get our ticket to Paris. 2024.
"Playing a World Cup is a perfect competition to improve, because you play against teams that you are not used to playing against, and it is important to test yourself, to see how well we we have improved by competing on the highest stage. We want to win games, and we will be ambitious."
Nwora is also excited for the D'Tigers to succeed in the 2024 Olympics in Paris.
He added: "We also want to participate in the next Olympics, there's no doubt about that. In order to keep progressing and be at the highest level, you have to qualify for every major tournament, and both FIBA ​​​​Basketball World The Cup and the Olympic Games are very important to us.
"We want to continue to show that we are the best team on the continent, and also prove to the world that Nigerian basketball will become a power, because we have all the ingredients to do so. It is our dream, and we will do everything to to achieve it. Our future is bright. Once we have our full team, all the way, we're going to be very, very good.
"I dream of making my people proud, the whole country, and making Nigeria one of the best teams in the world. We are working hard for this and we have a lot of motivation and talent to do it. We just have to keep work hard and show growth year after year. We know we will reach the highest level in world basketball."