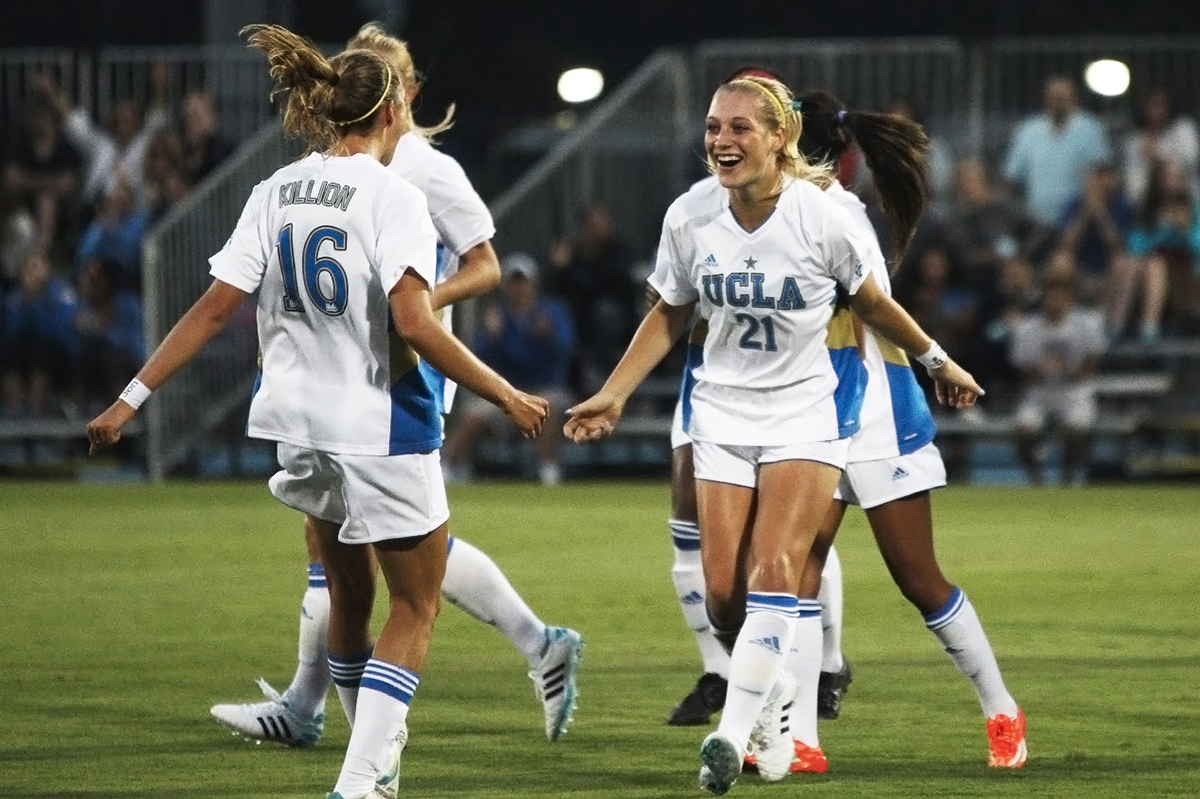 Pro Bruin Rundown: Megan Montefusco joins Orlando Pride, former men's basketball players score
Sports are in full swing all year round, from the preparatory level to the professional ranks. Every Monday, Daily Bruin Sports will highlight some moments from former UCLA greats over the past week.
Women's Soccer: Megan Montefusco, Orlando Pride
Another former Bruin will join the Pride.
Former Bruins defenseman Megan Montefusco was traded from the Houston Dash to the Orlando Pride on January 28, joining a group of former UCLA women's soccer players with midfielder Viviana Villacorta and forwards Darian Jenkins and Sydney Leroux. Montefusco will once again be coached by coach Amanda Cromwell, with whom Montefusco won UCLA's only national championship in 2013.
After appearing in 90 games over four years for the blue and gold, the defenseman turned pro and was drafted by the Washington Spirit in 2015. As a rookie, Montefusco played every minute of the 2015-16 season and was selected as a Washington Spirit Defender. of the year.
Since then, the Illinois native has played for five total NWSL teams and spent two years in Australia playing for the Newcastle Jets.
Men's Basketball: Russell Westbrook, Los Angeles Lakers; Zach LaVine, Chicago Bulls; Kevon Looney, Golden State Warriors
Thirty was just a number for several former Bruins on the hardwood.
Former UCLA guard Russell Westbrook had a season-high 35 points in the Los Angeles Lakers' loss to the Charlotte Hornets on Friday night, while guard Zach LaVine — who was a Bruin in 2013 -2014 – scored 30 points in the Chicago Bulls. loss to the San Antonio Spurs on the same night
Westbrook, the 2007-08 Pac-10 Defensive Player of the Year, had his season-best point total while shooting 52.2 percent from the field and missed 3 points to lead his team to a victory, without Perennial All – With LeBron James and Anthony Davis.
LaVine's performance was his third straight game of 23 or more points after a five-game absence for his No. 2 Bulls. 'Is, as he finished third in voting among guards, meaning a second straight All-Star selection for the two-time Slam Dunk champion is likely.
Elsewhere in the league, former Bruins forward Kevon Looney posted impressive numbers not in the goalscoring column, but rather in the rebounds category.
Looney's 15-rebound night helped Golden State win over the Brooklyn Nets in the NBA Saturday Primetime Contest. The center has now grabbed double-digit rebounds in six of his last nine outings en route to a career-high 7.4 rebounds per game on the campaign.
The 2014-15 second-team All-Pac-12 selection started 50 games for the Warriors this season while playing 21 minutes per game.