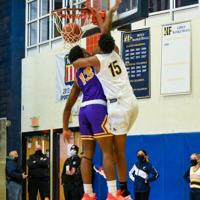 Top local basketball players in all-star showcases | Sports
All-star weekend has arrived for many of the region's top high school basketball players – with a select few taking the stage for two games at separate gymnasiums on the same day.
The senior stars of the Niagara Frontier League, Monsignor Martin, Yale Cup and ECIC leagues will meet on Saturday at McKinley in the 25th Silver Hoops All-Star Game.
Some of those players are also among the 40 boys and girls invited to the Best of Buffalo Showcase later Saturday at Sweet Home.
Hosted by former University at Buffalo players Rod Middleton and Tony Watson of Pro Training Basketball in North Tonawanda, and Joshua Koester of Tapekage Productions, the second Best of Buffalo event features four games at 3 p.m. Freshmen and sophomores are presented first, followed by the top 20 players from the upper class compete in 6 and 7:30 starts.
"The goal of this event is to provide greater visibility for the region's top talent," Middleton said, noting that recruiters from more than a dozen local colleges are expected to attend the showcase.
Niagara-Wheatfield junior Xander Fletcher, Niagara Falls senior Dominic McKenzie and North Tonawanda resident Canisius junior Luke Granto are among those playing in the boys' game.
Lew-Port junior Sophie Auer is captain for the women's game, which also includes Wilson's Bella Lemke and North Tonawanda's Emily Zander.
"We hope these games will be competitive and played like a real game," Middleton said, noting that they will use the Elam end rules popularized by The Basketball Tournament and adopted for the NBA All-Star Game.
"I know it's going to be fun," said Niagara-Wheatfield coach Erik O'Bryan, who will coach the NFL stars in the Silver Hoops game. "You are going to have a lot of very good players on the pitch together. I think you'll see them picking on that.
O'Bryan expects similar competitiveness when NFL seniors put aside league rivalry to represent their schools for the final time.
The NFL All-Stars take on Monsignor Martin at 2:30 p.m., between Yale Cup games against ECIC, with small-division players meeting at 1 p.m. and big school teams at 4 p.m.
"It's a fun game for a lot of these seniors," O'Bryan said. "Any special attention given to these kids, they deserve it. For some of them, this could be their last time playing organized basketball.
CSAT's McKenzie and Nate Parker, along with some of the Monsignor Martin, Yale Cup and ECIC seniors will double their All-Star appearances, moving from Silver Hoops to the Best of Buffalo event.
O'Bryan praised the organizers of Best of Buffalo, as well as McKinley coach Zaire Dorsey and the Silver Hoops committee for bringing together the best players.
"Organizing an all-star game takes a lot of hard work and planning," O'Bryan said.
The NFL roster also includes: Rob Brown of Niagara Falls; NW League Champion TJ Robinson and Wyatt Cooper; Carter Krawczyk and Logan Eoute of Lew-Port; Kai Tran of Lockport; CSAT's Greg Sanders; Jake Kish of the Northern Territory; and Kenmore West trio Phil Jones, Sean Hargrave and Mario Smith.
Best Buffalo Junior/Senior Rosters:
Boys – Justin Glover (captain), Lamar Matthews, Massimo Moretti, Chase Welch, Seth Joba, Caleb Chapman, Nate Parker, Dominic McKenzie, Xander Fletcher vs. Max Schneider (captain), Declan Ryan, Kevin Thompson, Nick Whitfield, TJ Jacobs, Trey Kleitz, Jimmie Green, Nick Moore, Trevin Boling, Luke Granto
Girls – Sophie Auer (Captain), Tessa Schuey, Rachel Kamrowski, Jessica Zittel, Kayla Johnson, Presleigh Brunner, Brooke Bauer, Maggie Zittel, Brooklyn Bullock vs. Claire Pikett (Captain), Abby Rice, Emily Zander, Ava Purks, Mariah Huss, Haley Potenza, Leah Polk, Mandy Brink, Krissy Baker, Bella Lemke.