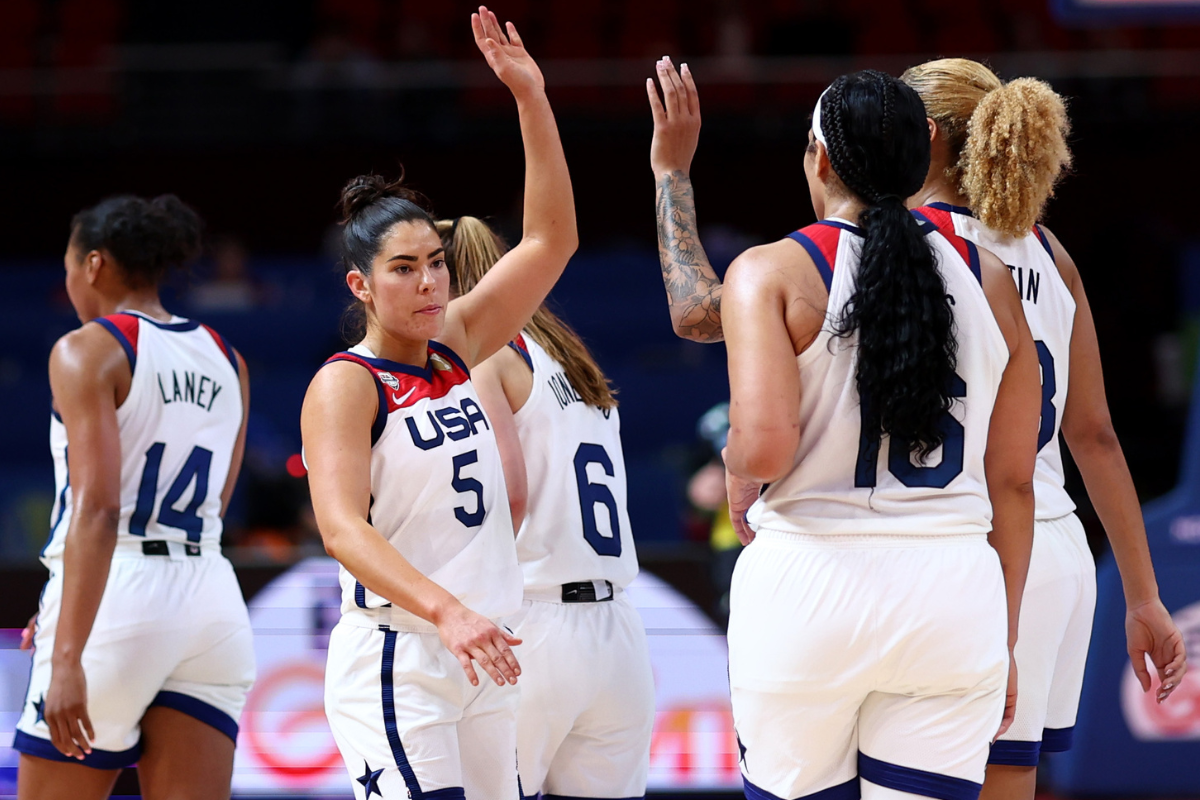 US Hunting for 4-Peat Championship
Missing the electric excitement of the WNBA playoffs? Are you looking forward to the return of NBA action? We are so close. May I suggest the FIBA Women's Basketball World Cup 2022 (FIBAWWC). You might be wondering "What is the Women's World Cup" and "Why didn't I know about it?" Carefree. Here's a quick rundown of what it is and why – if you love basketball – you should pay attention.
What is the FIBA ​​Women's Basketball World Cup?
??? ???? ?? ??? ?????? ?

Who do you see qualifying for the semi-finals on Thursday? ?#FIBAWWC pic.twitter.com/YjcPjmPBLd

— FIBA ​​Women's Basketball World Cup (@FIBAWWC) September 27, 2022
The FIBAWWC is often referred to as the Basketball World Cup for Women and it started in 1953. The Cup is an international basketball tournament for women's national teams that takes place every four years. It was created by the International Basketball Federation (FIBA) and remains the biggest international competition in women's basketball, bringing together the best teams from around the world. This year, the 19th edition, Sydney, Australia hosts the competition.
American women's basketball, a bit of history
RELATED: The 18 Greatest Female Basketball Players To Ever Step On The Hardwood
You may be most familiar with the legendary teams that USA Men's Basketball has built, especially the Olympic teams. But the United States Women's National Basketball Team has dominated world basketball for decades. In fact, at the 2020 Olympics, the women's team won their seventh consecutive gold medal and have been nearly unstoppable since forming the national team in 1995.
The historic 1995-96 United States women's team began the legacy with a boom. The women earned an unbeaten overall record and went on to play 8-0 to win the gold medal at her first Olympics. American women have now matched the men's streak of seven consecutive Olympic gold medals, which the men won between 1936 and 1968. Women's basketball could easily maintain the streak.
Speaking of streaks, the United States has a solid history at the Cup. The United States women's basketball team is currently competing for its fourth consecutive gold medal and it looks like the women will easily maintain gold excellence. Undefeated in the group heading into the quarter-finals, the Americans wiped out teams outright, beating their opponents by more than 76 points in the group stage. The 2022 squad now holds the FIBA ​​World Cup record for most points scored by a team in the event.
Team USA 2022 is on fire
If you watched last season of WNBA action, you know how talented the league's athletes are. This particular American team has unparalleled shooting ability. MVP 2022 A'ja Wilson spoke to NBC Sports on the team's ability to score, "I don't think I've ever been on a team that can score in basketball like that," Wilson said. "It's crazy, we got 145 points. I think when you look at us, and knowing how talented we are, we just got together and we play very, very well together."
We like that ? https://t.co/yQqj8s2G1N

—WNBA (@WNBA) September 27, 2022
The 12 women on this usa team pack legendary star power. It's always wonderful to see generations of historic basketball players pass the torch. The USA women's team has a rich heritage – from rosters with basketball icons Sue Bird, Diana Taurasi and Sylvia Fowles – to its new stars and the future of the game, who now lead the USA team. This 2022 team is further proof of just how bright the future of women's basketball really is – even if it's been difficult to put the team together given this season's WNBA playoff picture. .
Building the roster with three members of the newly crowned champions and franchise's first winners, the Las Vegas Aces, had its challenges. Vegas stars quickly went from paradeschampagne and cigars to long flights and quick concentration on the game. Threat of shooting Kelsey Plum said ESPN "she bought the Wi-Fi on the 3 p.m. flight to Australia so she could study the team's playbook."
A'ja Wilson, who brought joy to fans with his hysterical celebratory mentalityspoke to ESPN about changing his mindset in order to deliver a phenomenal game, "I don't know how I do it….I need to learn offense…I'm exhausted."
Exhausted or not, these women continued to give birth in Sydney. As they continue to chase another mug, you might be wondering how you can catch the action happening way down below.
Where you can watch the action
RELATED: How Much Do WNBA Players Really Earn?
Watch the historic American Women of 2022 shoot on ESPN+, streaming via The FIBA ​​website Or on Courtyard 1891, a digital platform that brings you live matches and videos of professional basketball around the world. They offer both free and paid subscriptions, offering full replays and live action.
You can also rewatch past games on Hulu, if you have a subscription, or check out free rewatches and highlights on FIBA Basketball YouTube Channel Where USA Basketball YouTube page.
ESPN and ESPN+ will also broadcast the quarter-finals, semi-finals and final, so tune your DVRs (this jet lag is harsh) to make sure you don't miss the action. Women's basketball continues to deliver high-flying excitement, so don't forget to show your support for these phenomenal athletes.
????????????????

?????? ? are ready to fight it out?#FIBAWWC X @FIBAWWC pic.twitter.com/w2Ig2VPOfg

— FIBA ​​(@FIBA) September 27, 2022
Wednesday September 28: Quarter-finals
USA vs. Serbia, 10 p.m. ET, ESPNU
Thursday, September 29: Quarter-finals
Puerto Rico v. Canada, 12:20 a.m. ET
China vs. France, 3:50 a.m. ET
Belgium vs. Australia, 6:20 a.m. ET
Friday September 30
Semifinals, 2:50 a.m. ET, TBD
Semifinals, 5:20 a.m. ET, TBD
Third-place game, 10:50 p.m. ET
Saturday October 1
Gold Medal Game, 2 a.m. ET, ESPN2