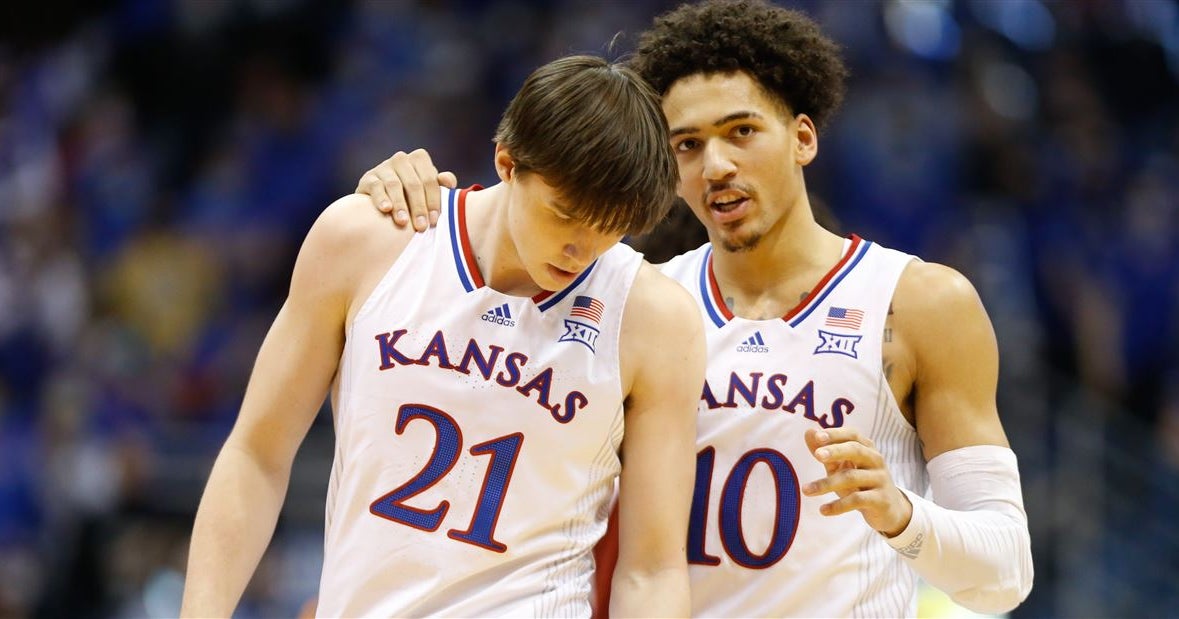 Veteran KU basketball players pave way for young squad for 2022-23
Kansas basketball enters the 2022-23 season with a team that bears little resemblance to the one that won a title just six months ago. After losing seven seniors during the offseason, bill yourself said KU will have to rely on their youngsters to fill the gaps and produce.
A new season usually brings a few new faces, but in the case of the Jayhawks this year, there are currently six newcomers to the roster, including freshmen. Gradey Dick, MJ Rice, Zuby Ejiofor, Ernest Udeh Jr.Wilder Evers and Texas Tech transfer Kevin McCullar. A big question mark for the Jayhawks right now is who is capable of replacing impact players like Ochai Agbaji and Christian Brown, both of whom were first-round picks in the 2022 NBA draft, for example. KU also have four rotation players who were part of last year's squad but didn't play a huge role.
Self has a few players in mind that he will look to strengthen in light of the absences.
"Gradey [Dick] and MJ [Rice] and KJ [Adams]Joe [Yesufu] and Bobby [Pettiford], they need to raise their level to the point where they understand exactly where their role needs to be to give us the best chance of winning," Self said. "And I think they will, it's just going to take time."
Self added that fill the shoes of big men like David McCormack and Mitch Lightfoot Also going to be a work in progress for the Jayhawks. Although first-year students Zuby Ejiofor and Ernest Udeh Jr. bring size and athleticism to the position, Self said they weren't recruited to be as influential as their predecessors right away. The coach expects his freshmen to eventually move into the roles, but they'll have to step in earlier than expected this season.
As if the Big 12 weren't ruthless enough already, conference rivals like Baylor feature several returning players on their rosters. Using Torvik's 10 projected rotation players ahead of the season, Big 12 rotations average about 2.3 years of experience, topping last season's 2.1 average. The Jayhawks were nearly tied with the competition last year, but this season KU's experience average is lowest since 2019 at about 1.2 years.
"You start out competing against 16-17 year olds and then the next year the expectations are such that you're supposed to be even 21 across America," Self said. "I think we had a good fall. I'm not trying to be negative, I just think the reality is that it's going to take time.
The good news is the Jayhawks are bringing some veterans into the mix Jalen Wilson, Dajuan Harris and McCullar. The trio bring Final Four experience to the table, as Wilson and Harris are the only two returning starters from KU's title chase, while McCullar also played on the big stage with Texas Tech in 2019.
At KU's team media day on Tuesday, Wilson, Harris and McCullar all acknowledged their role in mentoring their young teammates. Self said the three veterans are terrific leaders both on and off the field. He said Harris was softer-voiced, while McCullar wasn't as comfortable pulling strings as he likely would be in a few months, making Wilson's voice the most important voice on the floor. right now.
"For me, having the experience that I have and being able to help these guys at a younger age and teach them what it takes to win a championship is not something I had as a rookie with players who can help me," Wilson said. "I feel like that's a big advantage for them."
Wilson said this year's newcomers have been receptive to learning from their older teammates and coaches. He said they all showed up ready to work and ready to learn, which made for a productive summer and fall. However, understanding how to be a team off the pitch is also part of KU's youth learning curve.
It will take time for the players to bond with last year's squad, especially as this group had been together for several years, but Wilson and Harris said the team had bonded well until here. Wilson said the family culture at KU makes it difficult for the team not to want to spend time together off the pitch. Things like going to dinner as a team, playing video games, seeing a movie both helped the first year transition into the program and strengthened the team bond.
"Off the pitch, in the locker room, we all just connected," Harris said. "We really brought a lot of people back last year even though a lot of them didn't play last year. So we still had that connection, that bond that we had off the pitch. And then on the pitch, you know, we just have to keep bonding that chemistry. And if we get that chemistry, then we should be a pretty good basketball team.